Howl-O-Scream: Evil Encore vs. Halloween Horror Nights 26
|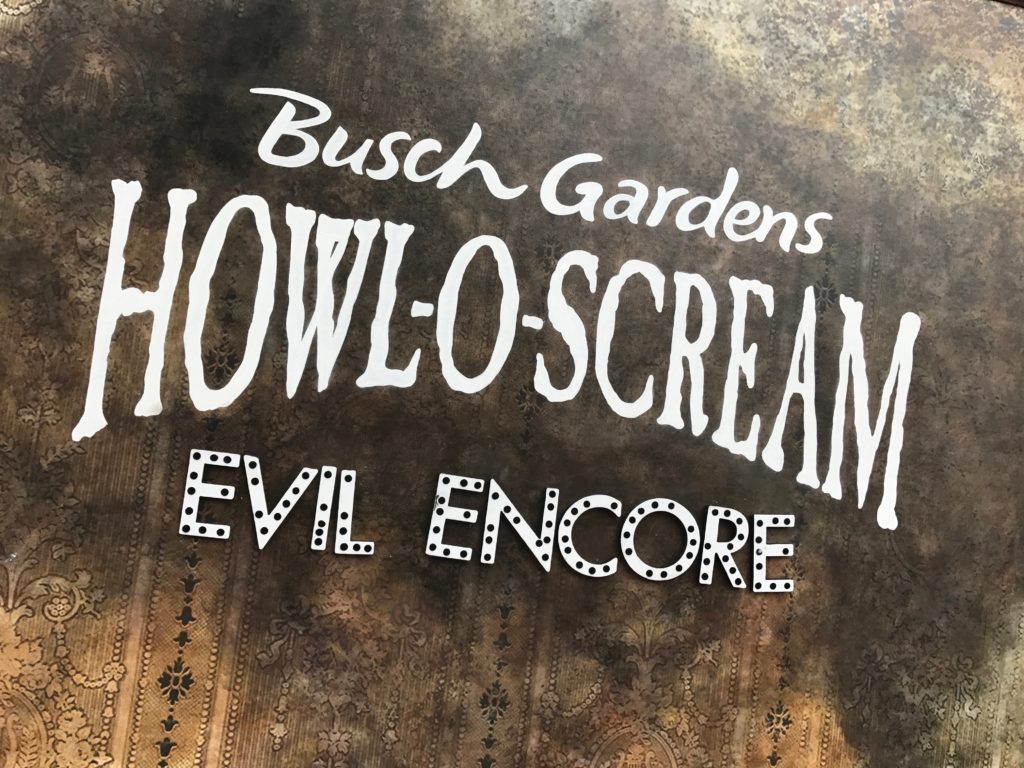 It's haunt season, and there are numerous events you can spend your money on.  Two of the major ones in Florida are Halloween Horror Nights and Howl-O-Scream.  Both events have their strengths and weaknesses.  Although they have similarities, they also each have different executions on the following: Shows, Scare Zones, and Houses.  I will dive into each to show how Howl-O-Scream compares, and then give you an overall scare factor.  Finally, we'll end with some quick tips/highlights if you are heading out to Howl-O-Scream this year.
Shows
---
Halloween Horror Nights wins in this category.  They have two shows this year, including Bill & Ted and Academy of Villains.  Howl-O-Scream, on the other hand, only offers the show Fiends, which is lackluster compared to the show quality of the Horror Nights shows.  But Howl-O-Scream has never been strong in this area.  Their show is funny at times, but it lacks any real creativity and winds up falling flat most of the time.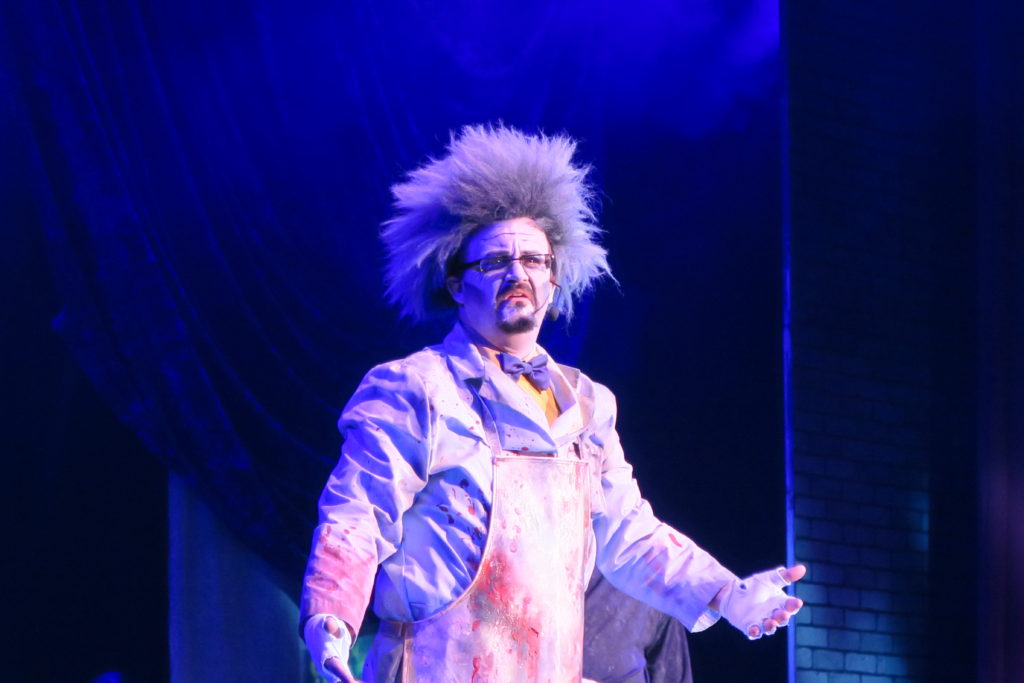 Fiends is the Bill & Ted of the event, but comparing the two isn't even fair.  Although Bill & Ted isn't a great show by any means (it's suffered the last few years), Fiends is of an even lower quality.  It focuses on pop culture like Bill & Ted, but lacks laughs and doesn't get any better from year to year.  There are some cool dance numbers, but nowhere near the quality of performances in Bill & Ted.  Those nurses are very popular though 🙂  That's about all it has going for it.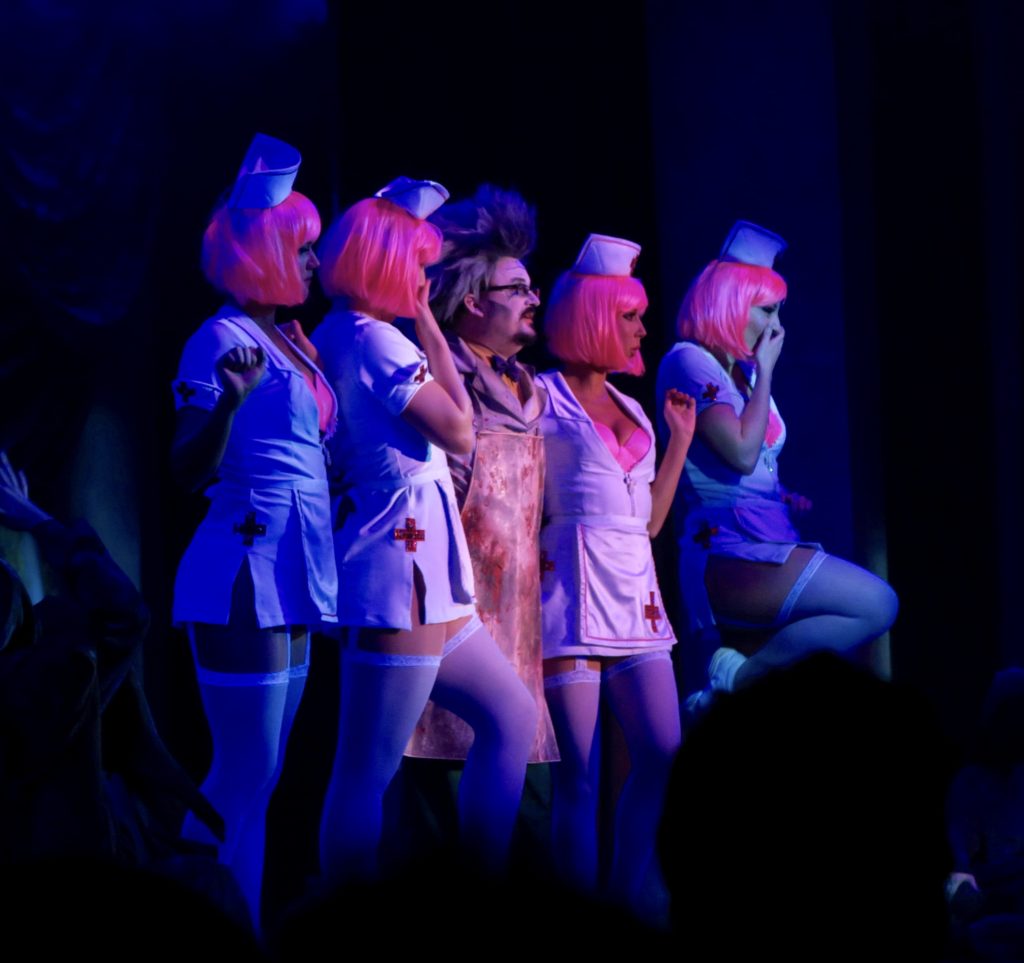 Scare Zones
---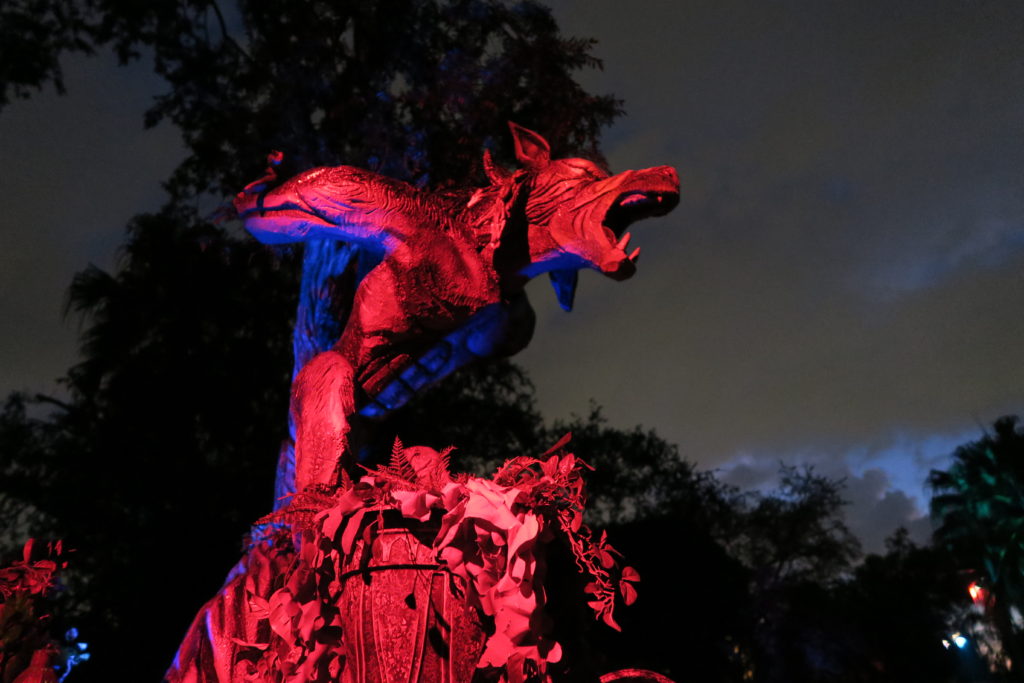 This is a tough call on both events.  Halloween Horror Nights focuses on theming and theatrics in their scare zones, while Howl-O-Scream spreads the scares out around the park, and even outside their "official" scare zones with the roaming hordes.  Both events do these well, but I'm going to give Howl-O-Scream the advantage in this category.  You are truly not "safe" anywhere you walk.  I noticed so many small little hordes and random scareactors throughout the entire park.  There were hardly any dead zones.  Howl-O-Scream also focuses dark and foggy zones.  The element of surprise is definitely what they focus on, and you never truly know what to expect.
There seemed to be about 3 "defined" scare zones at Howl-O-Scream, my favorite being The Playground.  This dark and creepy scare zone is simplistic, but is truly one of the most effective scare zones I've gone through.
I also loved the interaction around the scare zones and roaming hordes.  All of the scare actors were really into their roles, and have no problem approaching you and even having a conversation.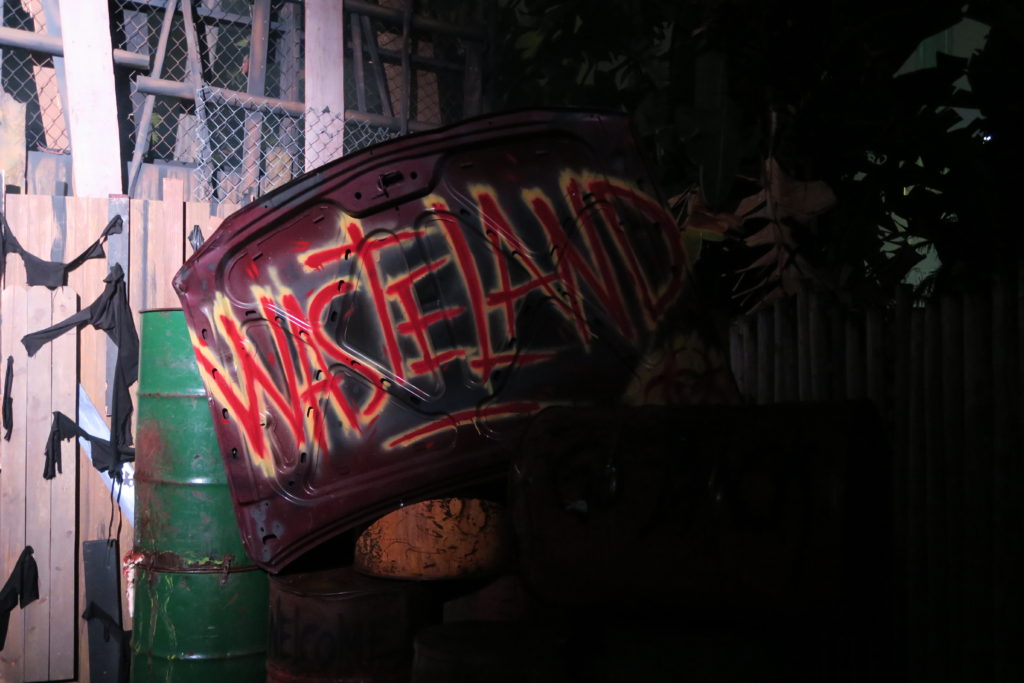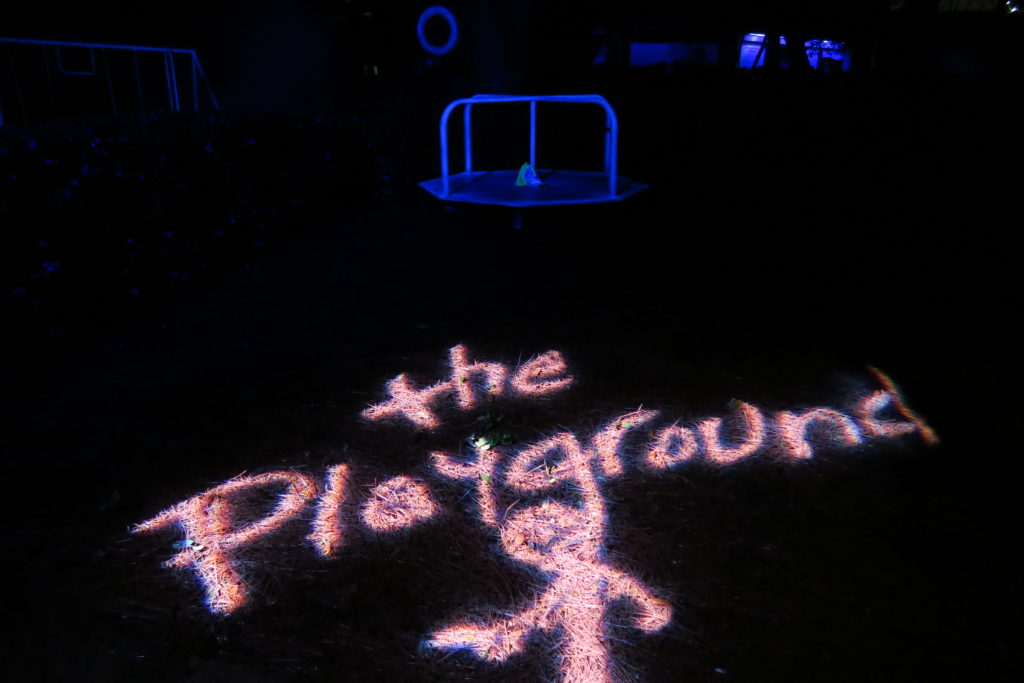 Houses
---
I'll be straight forward with this.  Both events do houses completely different from each other.  The first big difference is that Howl-O-Scream has NO IPs.  All of their houses are original, and that makes a huge impact.  However, the downside to that is that Howl-O-Scream recycles some of the same houses year after year.  It's not necessarily a bad thing, but some of their repeat houses are the same year after year, with only some small modifications made/scene changes.  However, what their houses offer, in terms of scares, far exceed Halloween Horror Nights.  Howl-O-Scream again (as in their scare zones), focuses on small, dark spaces to make their houses a intimate experience.  In contrast, Halloween Horror Nights focuses on big thematic sets, technology, and audio cues.  Howl-O-Scream wins the scare factor in this category by a landslide.
First off, when you go through a Howl-O-Scream house, most often you don't experience the conga lines like Halloween Horror Nights.  Instead, the crowds are pulsed in small spurts.  On slow nights, they even let you in with small groups.  This makes the scares even better!
Secondly, the scareactors in the Howl-O-Scream houses seem more effective.  They are not constrained by audio cues or technology (as in Halloween Horror Nights).  Instead, they are allowed to roam about their area (if they can) and some are directly in your face as you walk through.  They come from all directions too - boo holes, the ceiling, bungee launches, or just blend into the pathway in dark corners.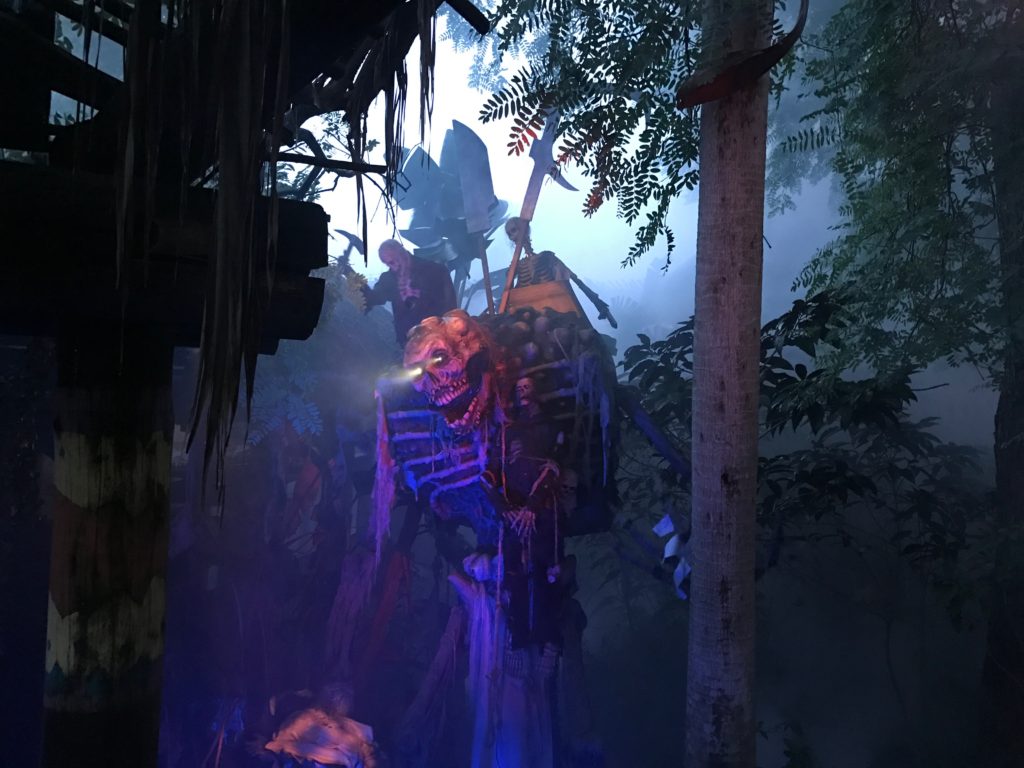 And finally, atmosphere/sets.  Again, while Halloween Horror Nights focuses on the theatrical element of their houses (and they are very well done), Howl-O-Scream works on the unknown and the most important part- SCARES.  I mean, that's why we go to haunt events right?  Halloween Horror Nights has been focusing too much on their sets the last several years, that they have been forgetting what the event is really for - to scare you! Howl-O-Scream's houses may be more simplistic in nature, but they truly are scary.  They have also been building some better themed houses over the last couple years.  Recently they introduced Unearthed, which is one of the best houses I've ever been through - it's a true masterpiece.  This year they introduced Motel Hell and The Black Spot.  There theming is getting better and better.  Given what they have to work with (no huge soundstage), I think Howl-O-Scream is doing quite well in this category.
Overall Scare Factor
---
I'm going to have to give this year of scares to Howl-O-Scream.  For the scare factor alone, Howl-O-Scream delivers between the roaming scares and intimate scares in the houses.  Halloween Horror Nights does have some scares throughout the event, but they are few and far between.  Howl-O-Scream delivers them throughout the whole park, and are more effective in total.
Tips/Highlights If You Visit Howl-O-Scream
The ONLY way to do Howl-O-Scream effectively is to upgrade your ticket to the Fright Feast.  This event is at 6PM (before the actual event starts) and features a great dinner buffet along with a showing of Fiends.  However, the

most important part

of the upgrade is that it includes 

front of the line

access to all the houses until 8:30PM.  If done right, you can get ALL the houses done before 8:30PM with this access.  I've found that even some houses will let you in the front of the line queue after 8:30PM (just flash your wristband).  Don't tell them I told you 🙂  The cost for this upgrade is about $23.00 + tax and you can get a discount on top of that if you are a Passholder.
Make sure to check out the two new houses: Motel Hell and The Black Spot.  Also, two MUST SEE return houses are Unearthed and Death Water Bayou.  Both are fantastic!
Spend some time with the Crash Test Zombies! It is Bumper Cars with Zombies riding along with you! It is SO much fun!
Set some time to immerse yourself in the scare zones - walk around the entire park to see all the various roaming hordes.  They rotate and show up in different places.
Check out some of Busch Gardens' coasters after dark! If you have time during your evening, the coasters in the park are completely different experiences at night.
Spend some time at the front entrance.  The scareactors are GREAT out there.  One followed me almost to the tram load area.  Unlike past years, this year's event has no scare zone when you walk in through the turnstiles.  Instead, they moved it out by the front ticketing area.
Check out some highlights from the event in my video:
For more information about the event, visit https://seaworldparks.com/en/buschgardens-tampa/howloscream.
As always, Park Pass offers non-biased and real reviews of events.  We paid for the whole experience and did not receive any perks or benefits to influence our opinion.