Is Space Fantasy finally Reopening at Universal Studios?
|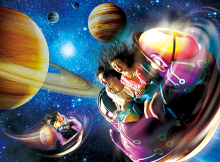 Space Fantasy: The Ride is an attraction that opened at Universal Studios Japan in 2010. It's a space themed spinning coaster that replaced the E.T. Adventure. It's similar to Disney's Space Mountain except it's much, much cooler. It was a pretty risky move for a park to open up an E-Ticket attraction that's not based off of intellectual property. But, it turned out Universal Studios Japan had a trick up their sleeve…
Space Fantasy closed "for refurbishment" in 2016. During this refurbishment a company called VR Coaster installed a virtual reality headset system on the ride. Ever since the facility has been used as a VR coaster with rotating IP themes throughout the year. Space Fantasy has not operated as Space Fantasy since 2016.
What's abnormal about this is instead of admitting that Space Fantasy is forever gone, Universal Studios Japan continues to list Space Fantasy as an attraction and still includes it on its list of "temporarily" closed attractions. Space Fantasy has continuously been on this list since 2016.
Will Space Fantasy Ever Reopen?
Will this "refurbishment" of Space Fantasy ever end? Is Universal Studios Japan pulling a 20k Ride on us?? (referring to the time Disney "temporarily" closed their 20,000 Leagues submarine ride and then bulldozed it). It appears that it MIGHT reopen on July 13th, 2019. This has yet to be confirmed by the park but it's "refurbishment" listed above ends July 12, and USJ is selling Express Passes for Space Fantasy starting on July 13th.
Looking at the pictures above you can see that the current "Lupin" XR ride that operates in the building is closing on June 23rd. The next photo shows that Universal Studios Japan is selling an Express Pass for Space Fantasy starting on July 13th. The time from June 23rd-July 13th should give the park enough time to remove the virtual reality system and to restore Space Fantasy's theming elements.
Reopening On July 13th!?
It is all but confirmed that Space Fantasy will be returning on July 13th, 2019! All signs indicate that the ride will finally be reopening after years of being closed. Of course we have to wait until an official announcement by Universal Studios to be 100% sure of the pending opening. If it does re-open make sure to check it out while it lasts!