Six Pizza Places That Put Orlando One Place Away From A Bronze Medal
|
Unless you've been living under the rocks at Disney's Hollywood Studios Frozen Photo-Op, you've heard that TripAdvisor's most recent Press Release scored the top 10 cities in the US for pizza, putting Orlando in at fourth, behind a city with a giant metal bean, one that got the most painful roller coaster in Las Vegas based off of it, and New Haven, Connecticut! In honor of their astounding credibility of compiling lists, I've decided to set up a list in their honor, detailing the 6 restaurants that helped shape that list.
6. Pizza Planet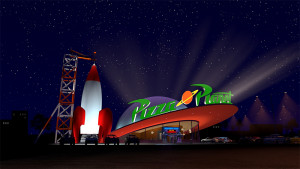 Pizza Planet is the best pizzeria in any Toy Story movie ever! Featuring a full arcade and "The Claw". It's the cornerstone of the entire Toy Story #story. Children and adults alike will always have fond memories spawned from this fictional, but all too iconic location. And apparently there's a non-fiction counterpart at Walt Disney World.
5. Louie's Italian Restaurant
Photo Credit Universal Orlando
Louie's pizza is second to… well exactly four other restaurants. There's nothing quite like sneeze guards to really sell the ambiance of little Italy inside a New York facade inside Orlando that subsequently lost to real New York. If you like lukewarm, huge slices of pizza with under 72 hours to go on the expiration ranch packets, Louie's is the primo place. Fully equipped with a glorious view of the Gotham's bathrooms, you just can't beat the theming of their neon signage and Coke Freestyle machines.
4. CiCi's Pizza

Photo credit Yipit.com
What says pizza more than everything except pizza on top of pizza crust?! And a buffet at that. Even though there aren't any on resort property in the Orlando area, you can still get the resort feel at any restaurant with their Special Resident Card, which entitles the card holder with $3.99 all you can eat buffet*! They even just raised the cost a whopping near 35%, which should get you feeling right at home with the rest of the parks.
3. Cafe 4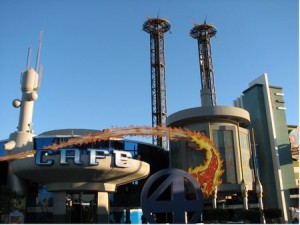 Photo credit ThemeParkInsider
I'll be brutally honest, I'm not sure if Café 4 serves pizza, but they have a decent burger and I think they sell chicken fingers…at best bet, free cup of water.
2. Cabana Bay Room Service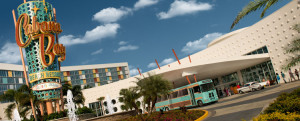 Photo credit Universal Orlando
It's such a cliché how everyone says theme parks are expensive. It's not true! The hotels are equally as overpriced. But theming! Theming doesn't cost extra. It's just cleverly worked in to every product you buy, some more noticeable than others. A $14.99 shot glass would slip right under anyone's nose, but even the most discerning eye could notice the $24.97 medium pizza and large Coke. Although to be fair, to account for the delivery charge to cover the ga-… Wait they don't drive it? They walk from the restaurant? The one 400 yards from the room? And they can even take the elevator?! What am I paying for?!?
1. Click Here To See The #1 Restaurant
Just kidding, what are we, Orlando Informer?! No of course not. I can't even figure out how to make a post into two pages.
The number one restaurant of this non gimmick infringing top 6 list of theme park restaurants is…
The credit card scamming pizza flyers slid underneath hotel doors!
Craving pizza at 7:30 AM? Wondering if there was just some… Paper with a no name pizza joint that parades around as a ma and pa restaurant with a local phone number of Zimbabwe and no physical address on it? Boy are you in luck! For the small price of your personal identity, you can help fund monthly installments of someone's yacht docked in some port on some island you've never heard of! And you won't even get the pizza, leaving you when an empty feeling almost similar to the gaping hole Jaws left in your heart. And in Amity 3.
*with purchase of regular drink