California's Great America Trip Report
|
I don't get to visit California theme parks often, the last time I went to one was in late summer 2015. I was on a short trip to San Francisco and decided to take a day trip to California's Great America… Enjoy my photo trip report!
Driving into the parking lot..

The park actually shares a parking lot with the new Levi's Stadium, home to the San Francisco 49ers.

Signage for stadium parking and Great America parking

Walking towards the front entrance you can see a wooden coaster called Gold Striker, and an observation tower

We thought it would be dead at the park on this random Friday… WRONG. It was middle school day or something along those lines..

When you first enter the park you're greeted with a nice entrance plaza, unfortunately the rest of the park isn't this nice.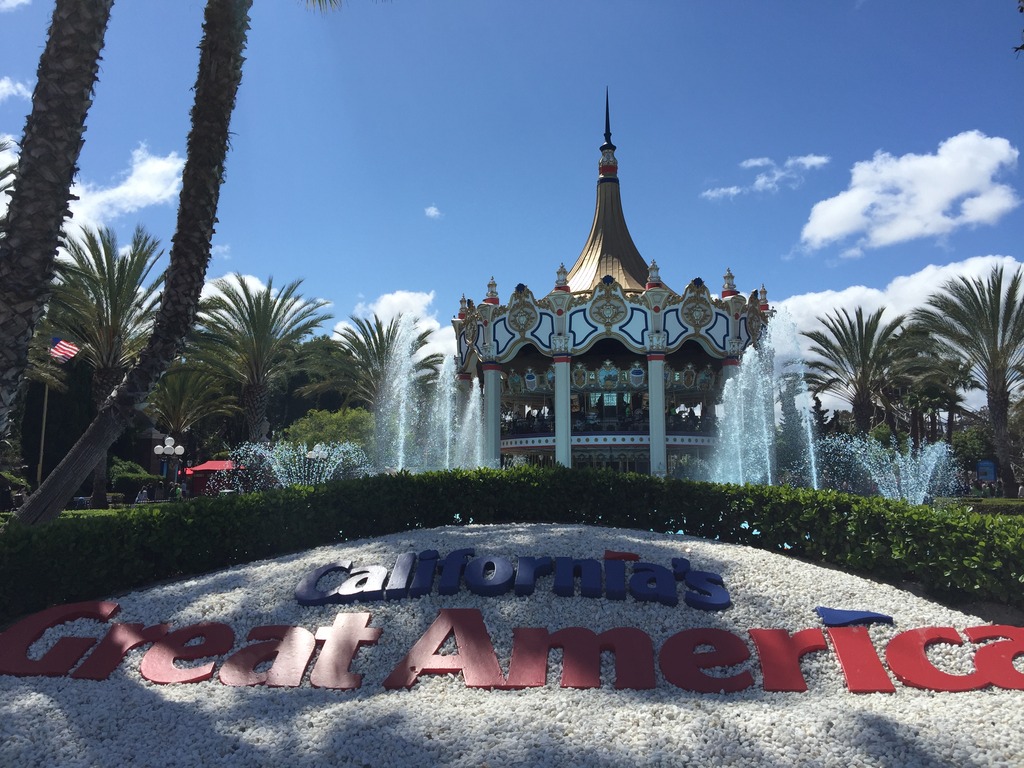 Beautiful water in front of the classic carousel
First up… Gold Striker! This is an awesome woodie. Best coaster in the park.
I waited around an hour in line for this, which is the longest I've waited for a ride in many many years.
Load station
This shot was taken as my train was in the final brake run, you can see the load station to the right and the maintenance bay to the left. This ride goes FAST and has some nice airtime.
The park has some nice theming in some areas, probably left over from when Marriott owned the park.
The next coaster is a ride called Vortex, its a standing coaster.
The park has a sky coaster, it just looked very small because I'm used to the 300 foot tall one at Fun Spot America
Things like this gigantic basketball game with a loud DJ and MC are what put these Cedar Fair and Six Flags parks in the "amusement park" division and not "theme park" division.
The splash boat ride was open! Didn't want to get wet though.
The park also had awesome remote controlled boats
The next ride is a classic attraction, the Demon!
The ride is an Arrow Dynamics looping coaster. It has some classic Marriott theming.
Loop.
I guess the park used to have a train, you can see where the track used to run.
TAKE THE LOOP
Another tunnel from the former train… But this one is hidden.
The train has a cool retro 3D logo on the front
In the station
We walked to Grizzly next.
PSYCHO Mouse. Didn't ride this. The line was too long.
We then walked by Planet Snoopy on our way to the parks newest attraction, Mass Effect: New Earth.
There she is…!
New for 2016, Mass Effect is an awesome 4D attraction that was fantastic. I was not expecting to find an attraction this good at the park. It is on par with something you'd find at Disney or Universal.
Some Mass Effect theming in the queue. Mass Effect is a video game.
Pre-show with some lady telling us about a travel company that will be taking us to another planet.
You are given 3D glasses outside of the theater. Moving inside you're greeted with a futuristic looking theater with big comfy seats and a pilot at the front of the room.
Futuristic.
Then… amazingness happens. Your pilot takes control of the ship and uses his hand to control a 3D hologram (similar to JARVIS from Ironman). It creates an extremely realistic and HD effect that will amaze you. The pilot then controls the ship as it flies through the galaxy. It's a perfectly safe flight.. your ship won't, uh, get attacked or anything like that….
The actor must hit all his cues to not accidentally be standing in the middle of a 3D graphic. It is kinda like Terminator 2:3D. It has moving seats, liquid nitrogen fog, a live actor and more!
After Mass Effect we did Flight Deck which is an inverted coaster, then walked through the park and came across this nice little New Orleans area.
Lunch time! We ate at a fried chicken place. Pretty good food, but one poor guy working the place.
That wraps up my day at California's Great America. Hope you enjoyed!
http://i1351.photobucket.com/albums/p797/Jwhee/Californias%20Great%20America/IMG_1108_zpsvyewwe6s.jpg