Trip Report: Season of the Force - Disneyland
|
Starting last week, Disneyland unveiled some of its Season of the Force offerings at the park, most notably the Star Wars Launch Bay and Hyperspace Mountain.  I was on hand to check them out, and here are my thoughts about the new additions.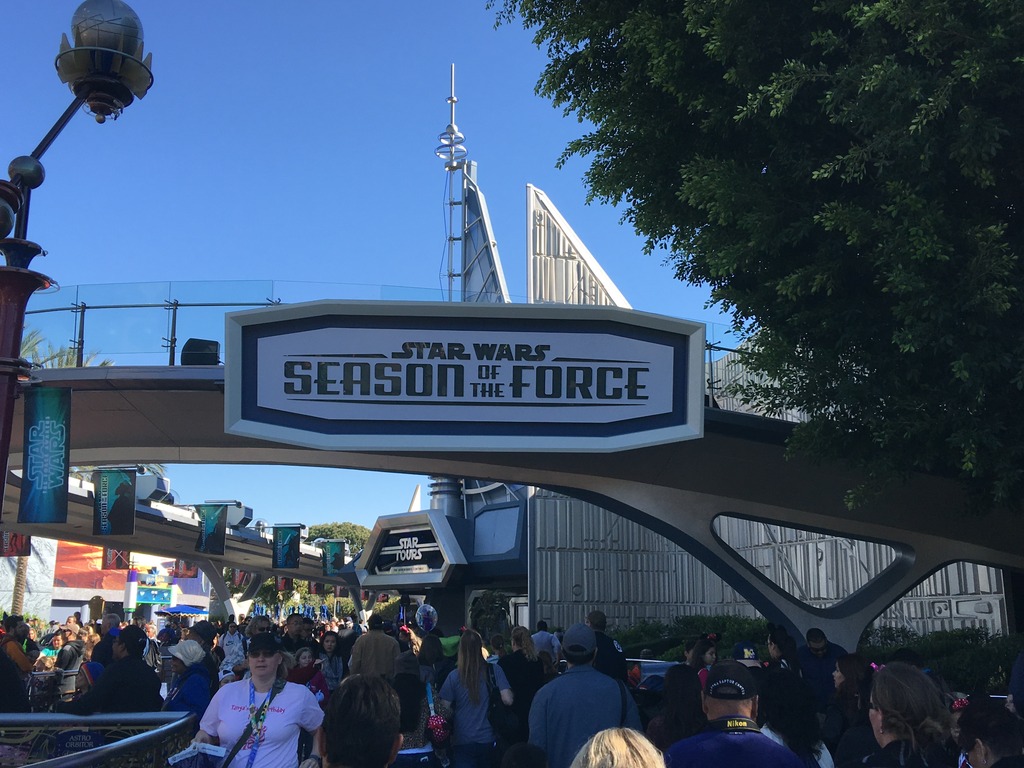 There was quite a crowd for opening day as Tomorrowland transformed into a mecca for Star Wars fans.  Season of the Force signs were on every entrance to Tomorrowland, along with other banners and decor.


Star Wars Launch Bay
Imagine this as a mix of props, meet and greets, and tons of Retail.  While this may be fascinating for some Star Wars fans, I found it rather dull and unappealing (even as a Star Wars fan).  As you progress around the former Carousel of Progress/Innovations building, the familiar "A long time ago in a galaxy far far away" wraps around towards the entrance.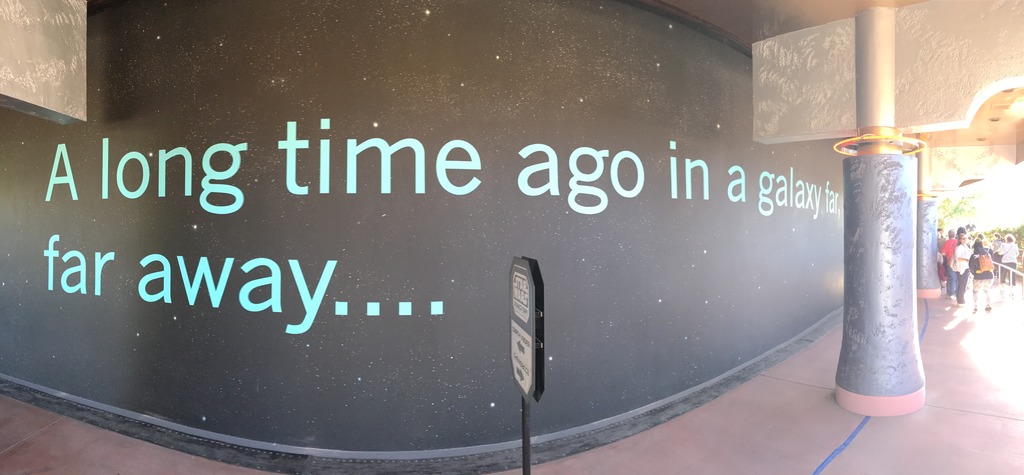 Once you enter inside,  a welcoming message in Star Wars style is printed on the carpet.  From here you can either turn left into a massive Star Wars Gift Shop, or turn right into the a museum of Star Wars memorabilia.
Let's start with the props/memorabilia.  Star Wars Launch Bay has quite an assortment of props from mostly the older films, with a few from the upcoming one.  You have everything from Star Wars vehicle miniatures, various weapon props, and costumes from the film.  As you walk around, each case has handy information signs to read up on all the props.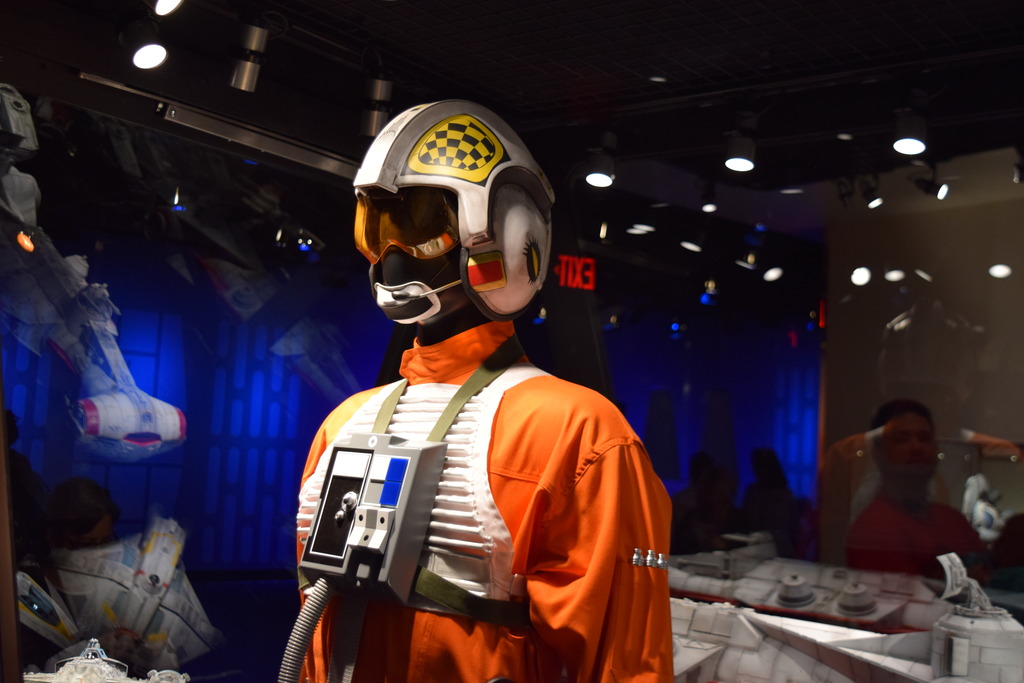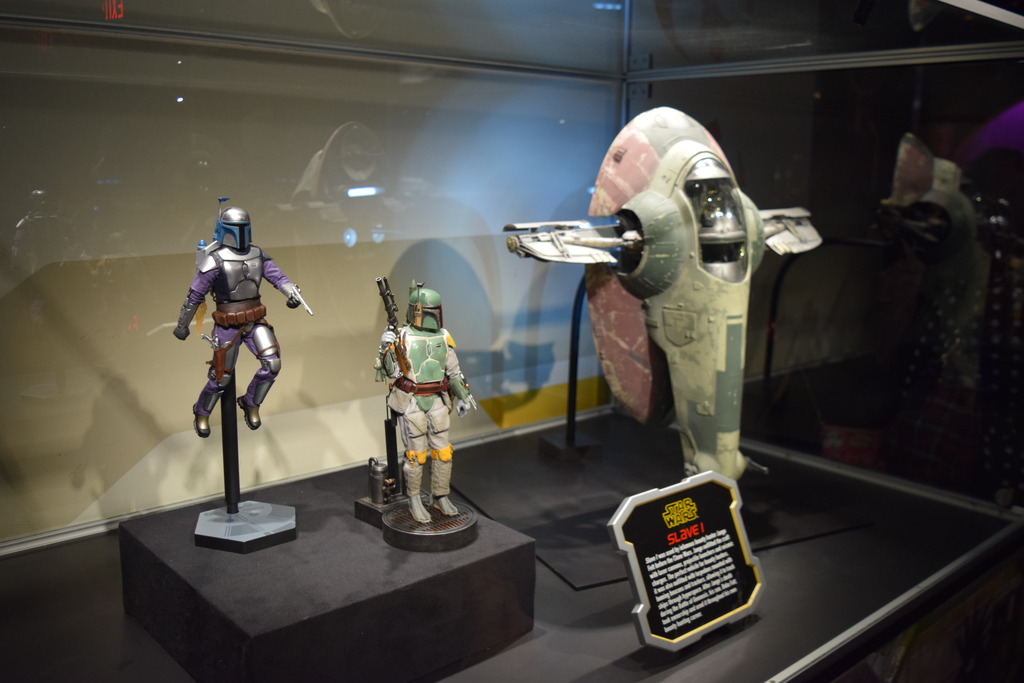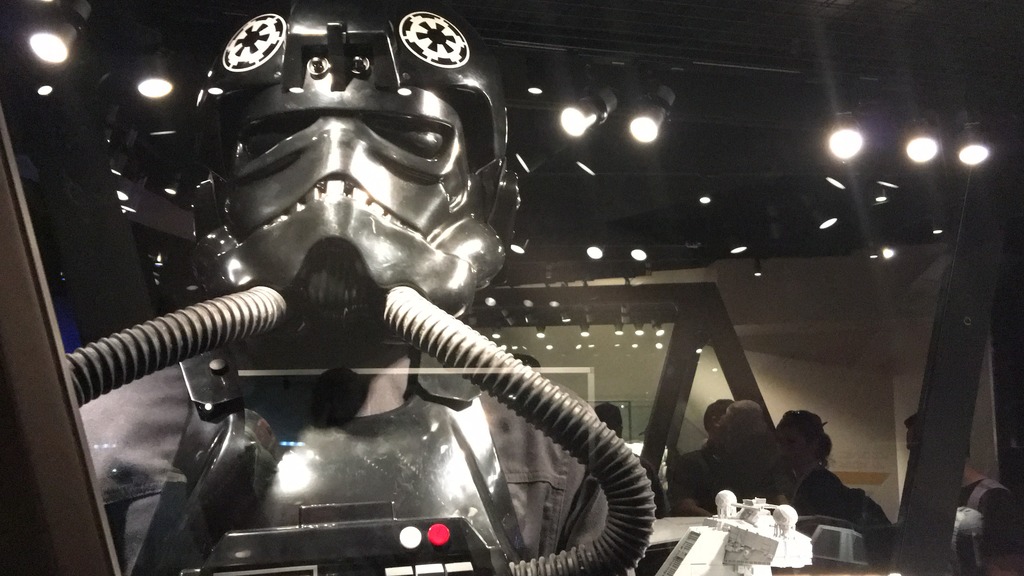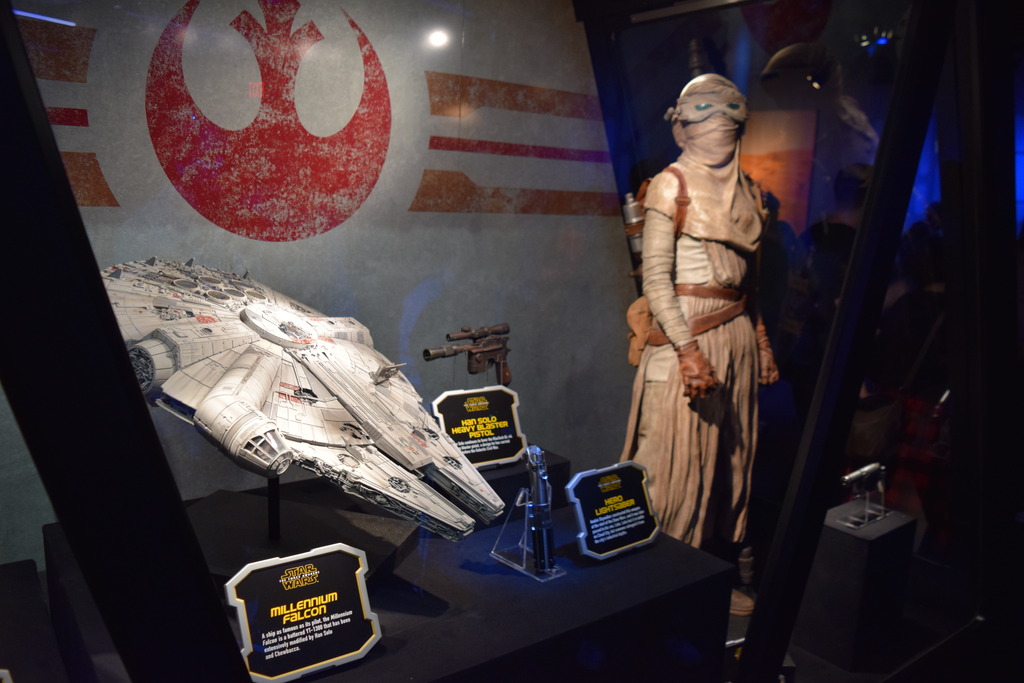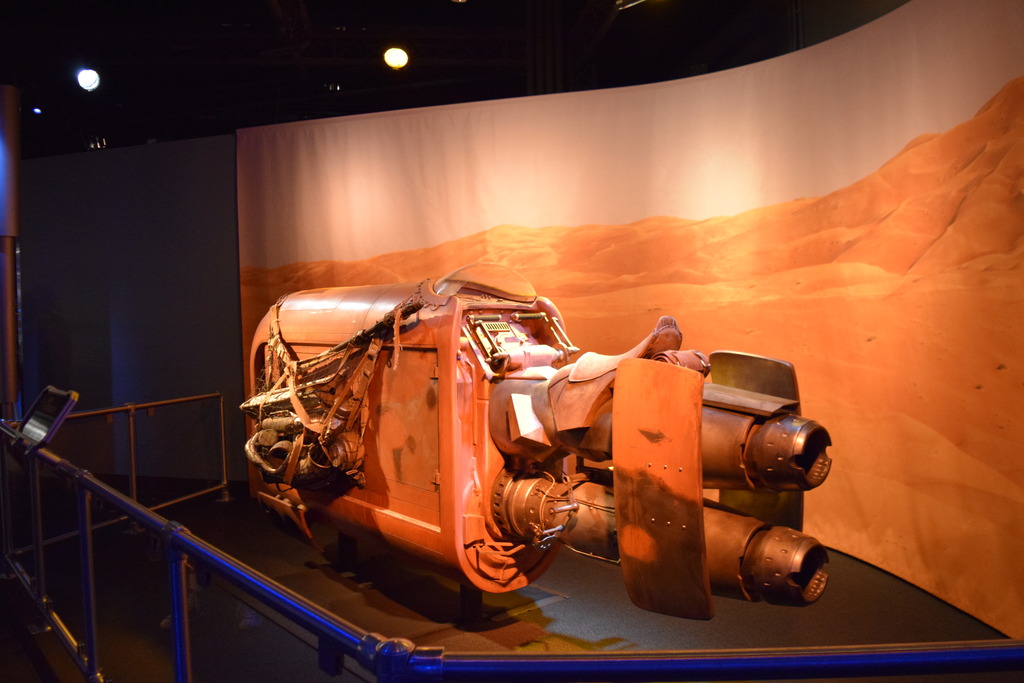 Around the backside of the attraction was the most popular (or so it seemed) event - the Meet and Greets.  I didn't bother to sit in a never-ending line for these, but I can report they had Meet and Greets with both Chewbacca and Darth Vader.  Both were posted at 45 minutes plus; no thank you.
In a small corner of the attraction, they also had some interactive games, mainly Disney Infinity.  Here is a mini Princess Leia trying them out.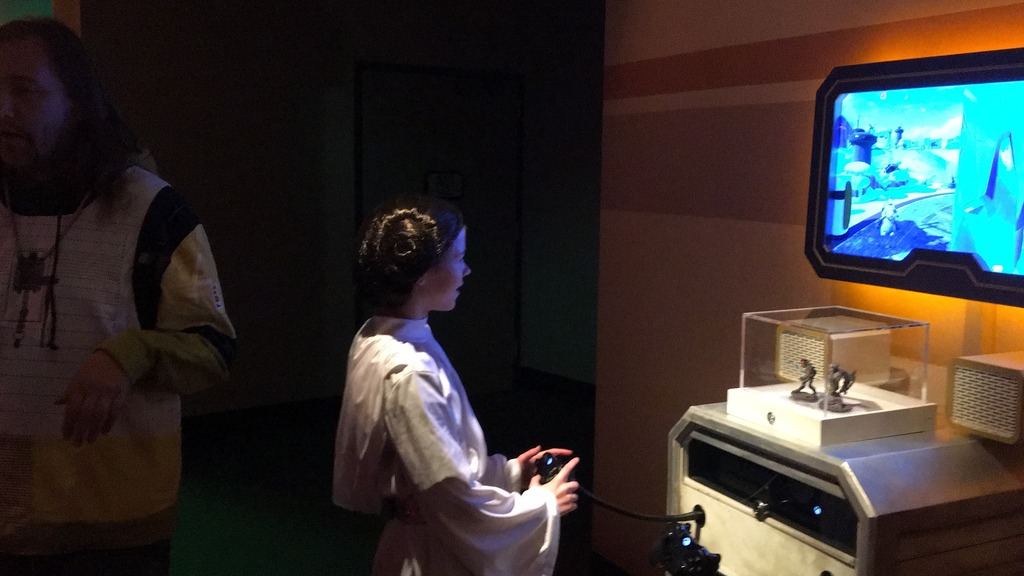 What seemed like the biggest use of "space" for the attraction though, was the massive Star Wars retail area.  This is the like the Watto's Grotto of the west.  A combination of clothing, artwork, toys, and special Star Wars items exclusive to the event.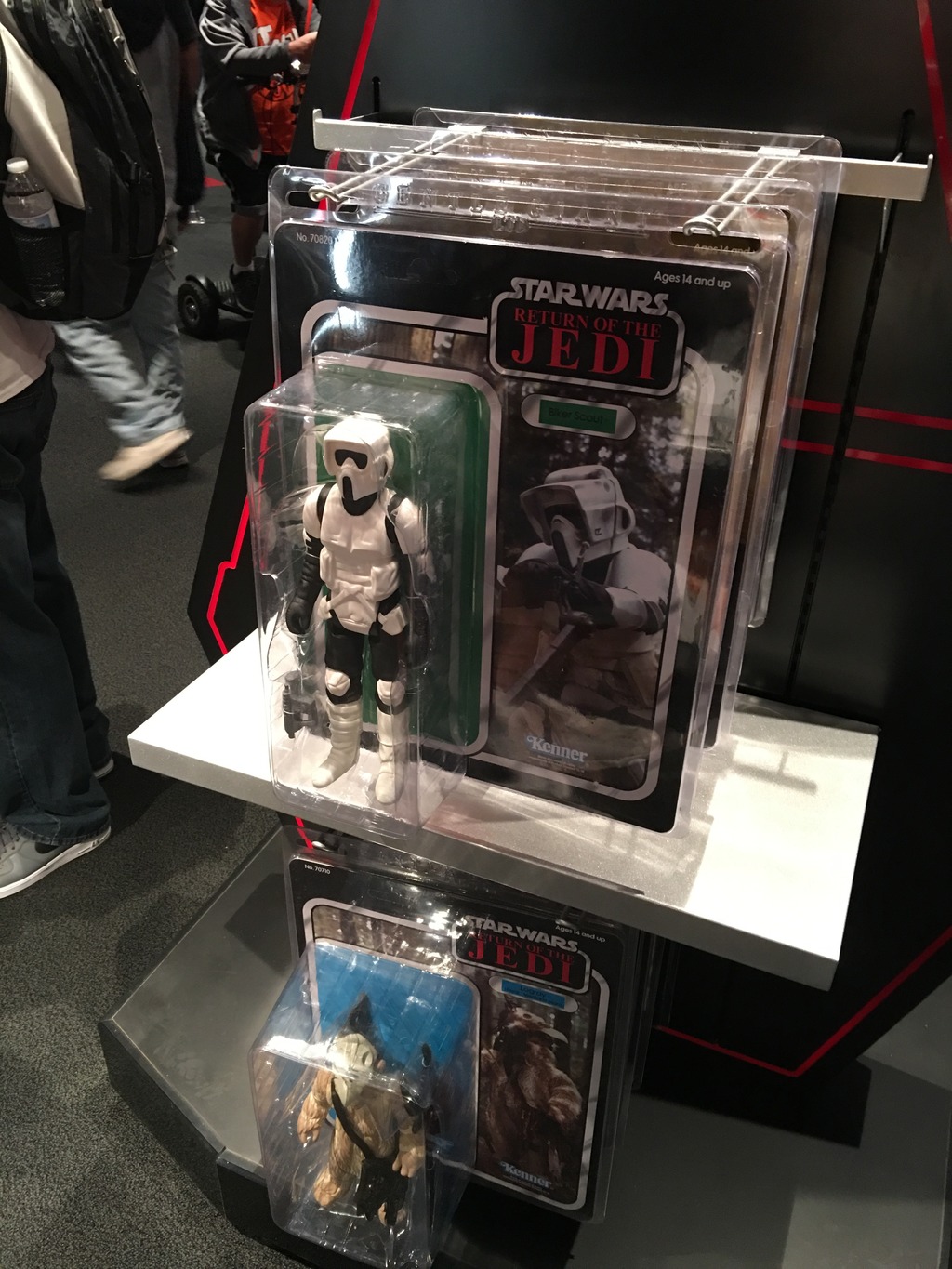 You could literally buy a Darth Vader costume for a hefty price tag.  If you can't read the sign, it's $4,000.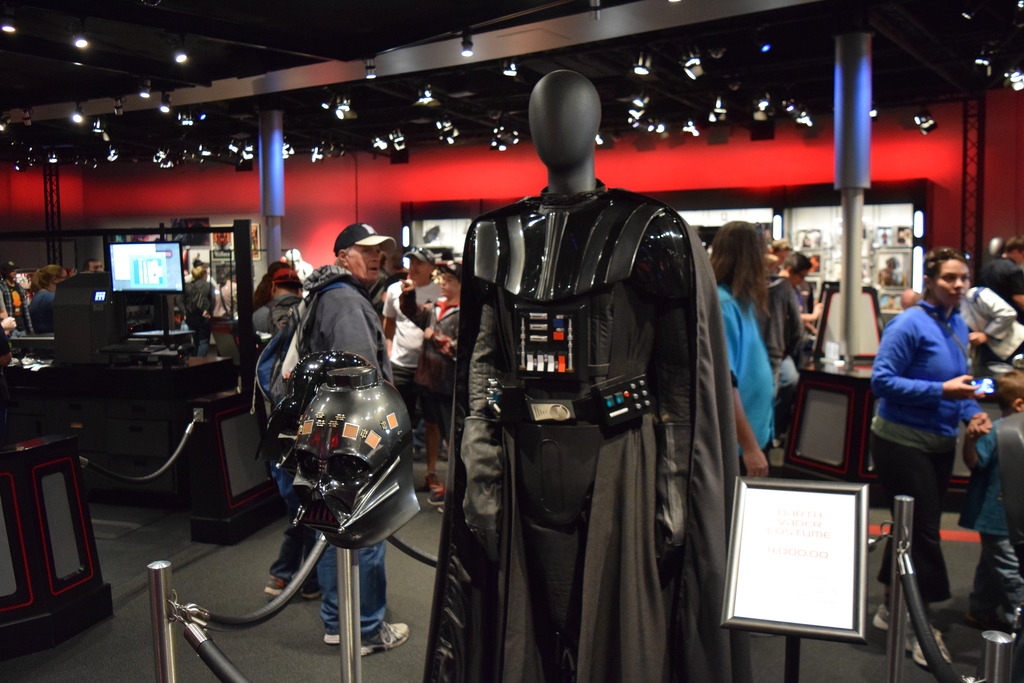 If Darth Vader's new costume was too expensive, how about these other deals?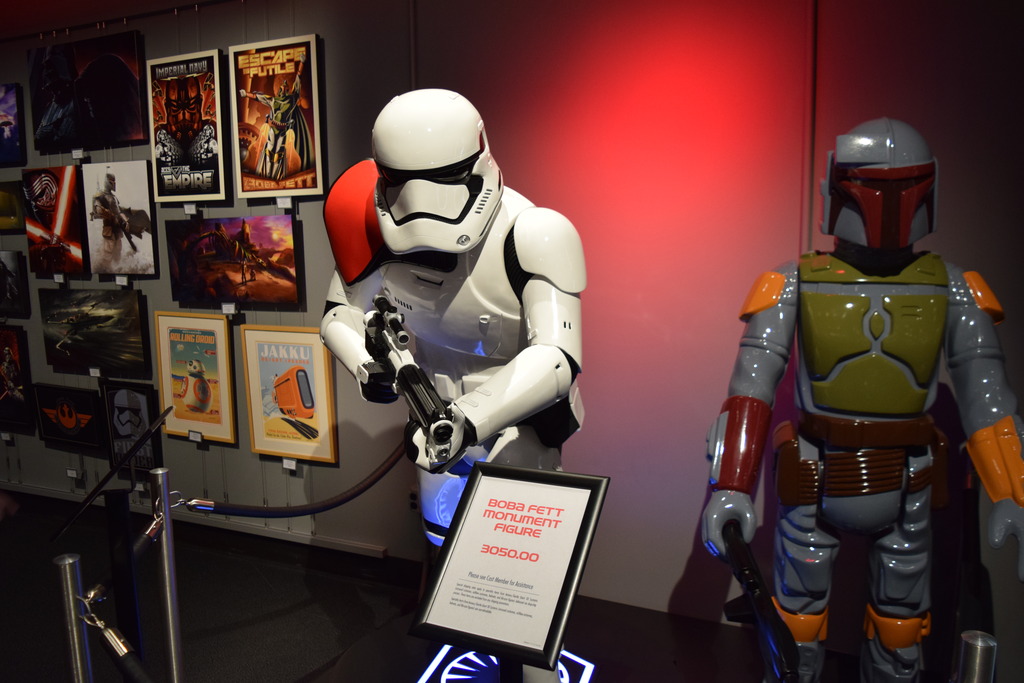 So my thoughts on Star Wars Launch Bay?  Honestly, I wasn't that impressed.  Although it was very busy inside, people moved on quickly from each display.  A lot of pictures were taken, but no one stuck around.  The most popular thing here was the Meet and Greet section.  So, in essence, Star Wars Launch Bay is an oversized Meet and Greet with a Retail Store.  Sprinkle in some cool Star Wars memorabilia, and that's exactly what you can expect.  By the way, this comes to Disney's Hollywood Studios this December.
Here's one final look at the overall entrance area.  Super Hero HQ is on the top level.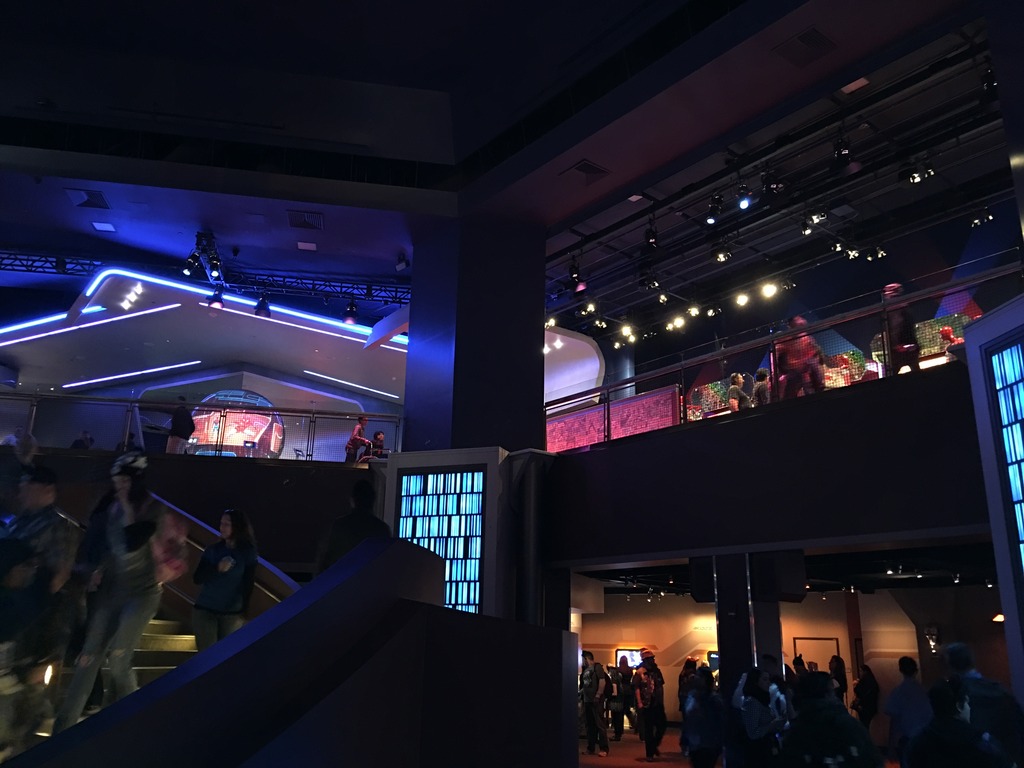 Hyperspace Mountain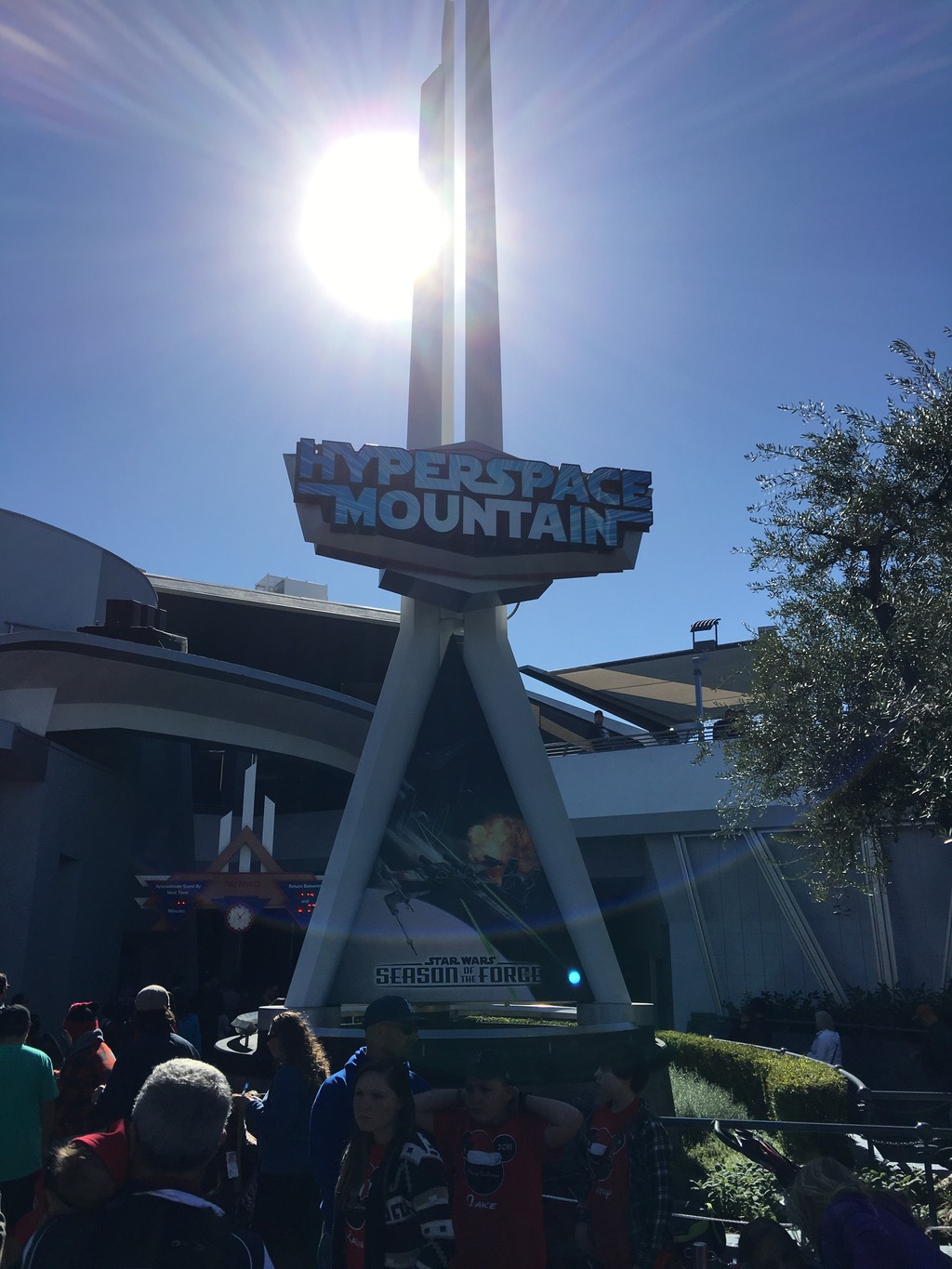 Ok, this is the highlight of the Disneyland event - I will just start with that.  I had seen previous overlays of Space Mountain before (Ghost Galaxy), but this blows it away.  Not only is Space Mountain a great ride as it is, but the combination of these new Star Wars elements makes it almost a completely new experience.
The queues were massive the days I was there.  Even the line to get Fastpasses was crazy!  If you didn't get there within the first hour or so, you wouldn't even be able to secure one!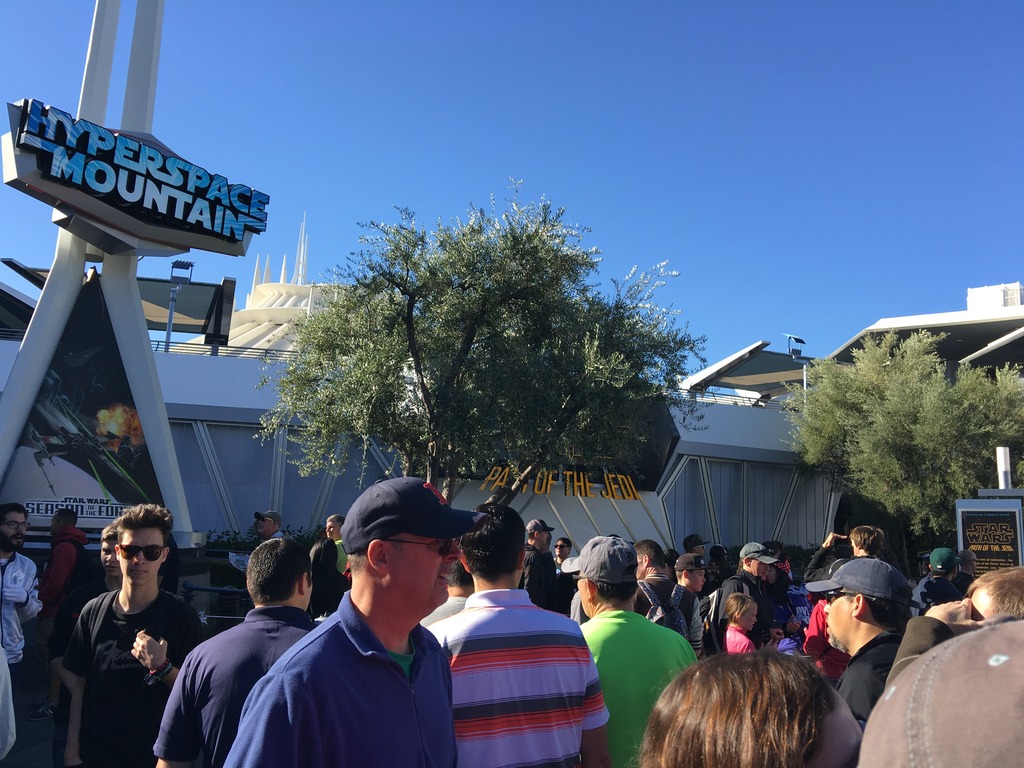 Disneyland didn't spend a whole lot of time redecorating the queue.  Instead, it uses small videos throughout to acclimate you into the story.  You are part of a X-Wing starfighter battle!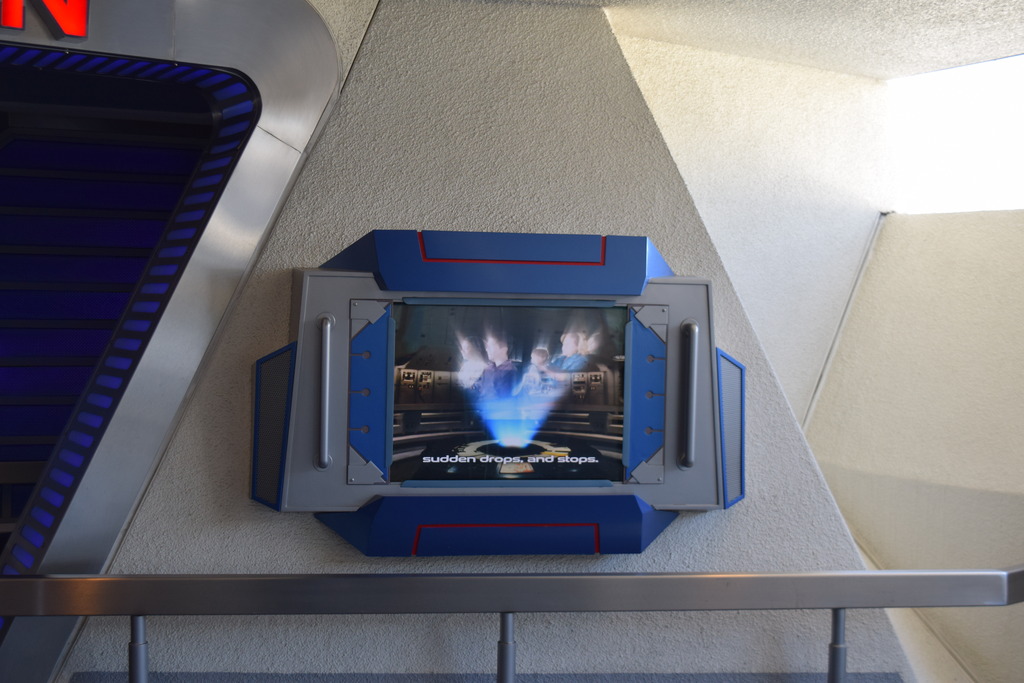 Once you get to the main loading area, nothing much is new here besides a few videos and signs.  But wow, Disneyland sure trumps Disney World for the Space Mountain loading area.  It is just beautiful!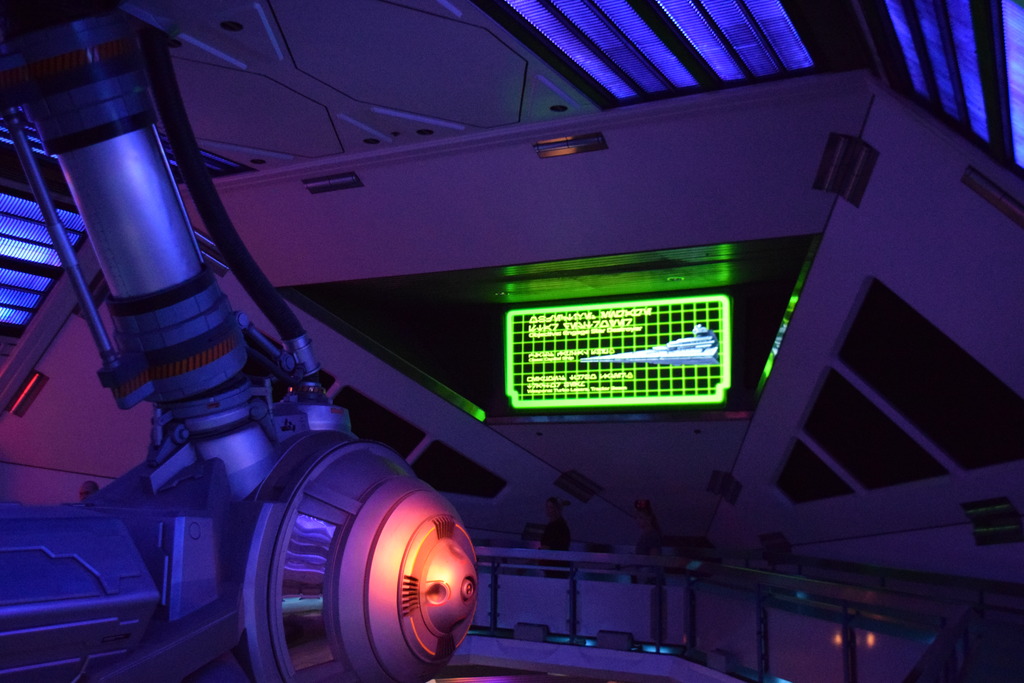 So the ride itself - did it meet the "HYPE?"  It was incredible in every sense.  The ride uses a combination of special lighting effects, projections, and sounds to put you right in the middle of an X-Wing star fight.  With all the added effects, Space Mountain feels like a completely different ride!  It will be exciting for both fans of the franchise and those that are not…it's just that good! Bravo to Disney for hitting this one out of the ball park.  Truly a memorable experience for Season of the Force.   I think this picture just says it all…look at those smiles.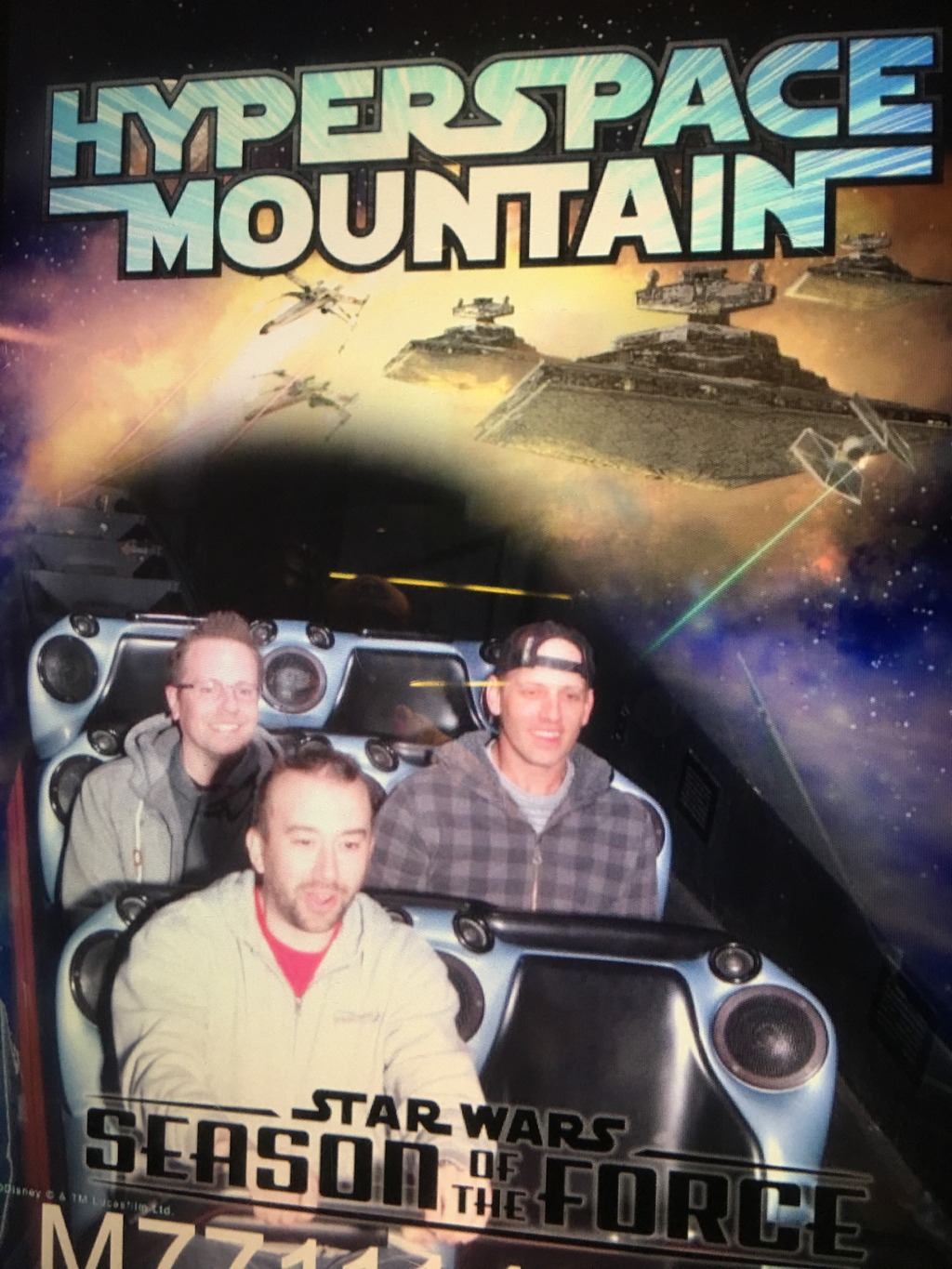 Star Tours
Just a small note on Star Tours.  It had a small change in the show with some added scenes/characters from The Force Awakens.  BB-8 is also featured in a scene as well.  Small changes, but I'm curious how many additional scenes they have.  I was only able to ride it once during the visit.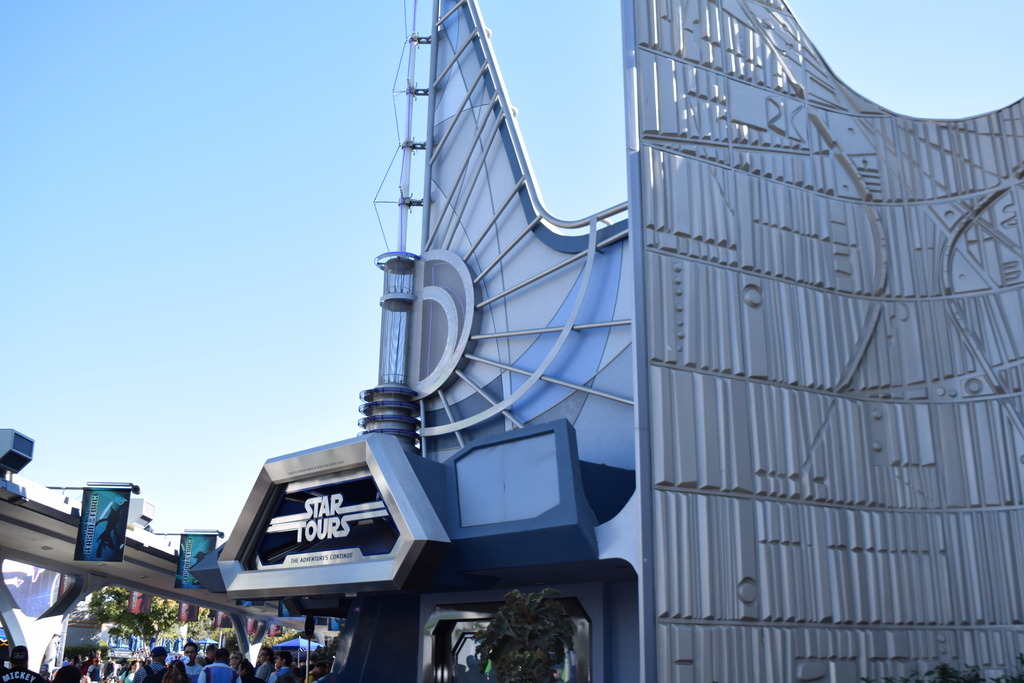 Food & Souvenirs
As with every Star Wars event, there are always special menu items and souvenirs to go along with them.  Season of Force is no exception.  
At the Galactic Grill, there are numerous Star Wars inspired entrees, some of which include a Han Solo Carbonite Bucket (haven't we seen those carrying popcorn at Disney's Hollywood Studios before?).  There is also an awkward Chewbacca head Sipper.
I didn't try any of the food items while I was there, but the First Order Speciality burger has a bun thats died black.  That turned me away instantly.  There are Dark and Light side order options for you to pick on the menu as well - choose wisely.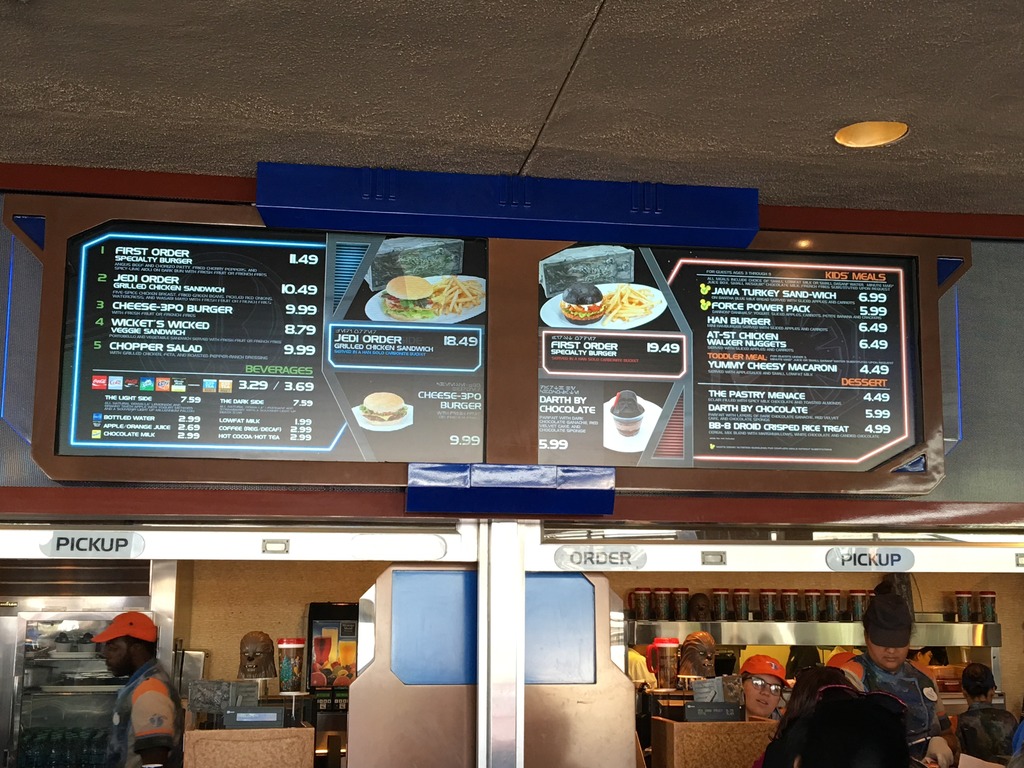 Over at Redd Rockett's, they transformed their entrees into special Star Wars related dishes.  Here, you can also buy the BB-8 Droid Sipper!  Note the very tacky sticker on the Redd Rockett's sign advertising this.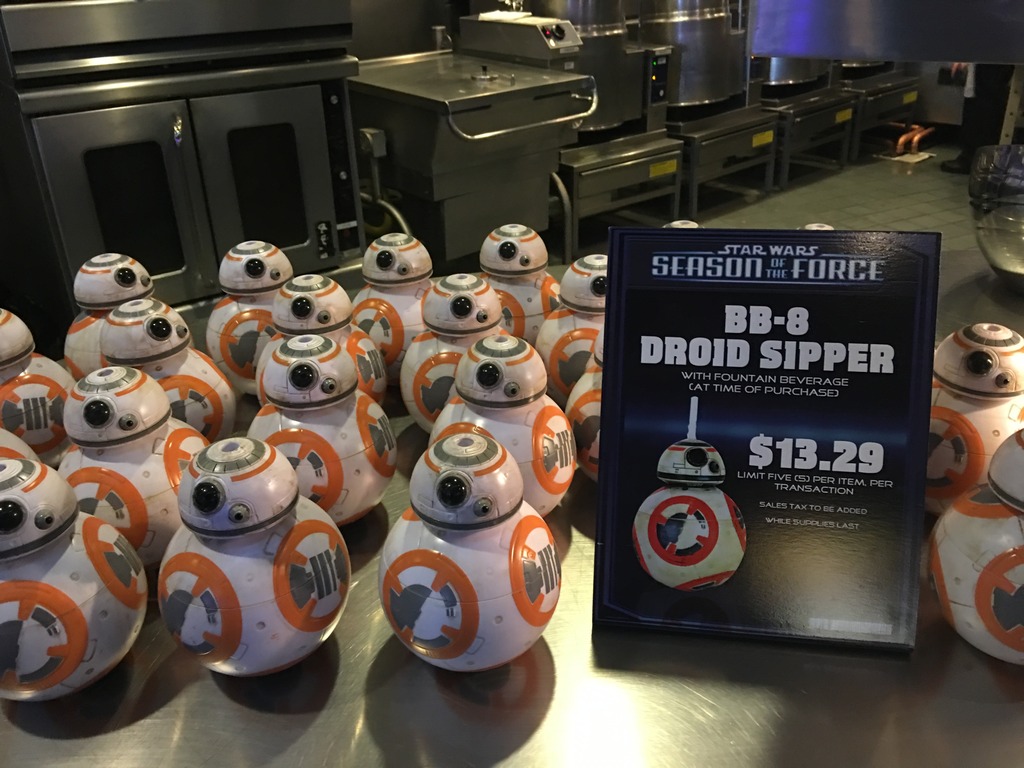 On the streets, you can buy the MASSIVE Tie-Fighter Popcorn Bucket.  Seeing people with these around their neck just made me chuckle.  But all joking aside, this is a cool item for sale.  I probably would have purchased one if I didn't have to pack it up for travel.  I'll wait for our event on the East Coast.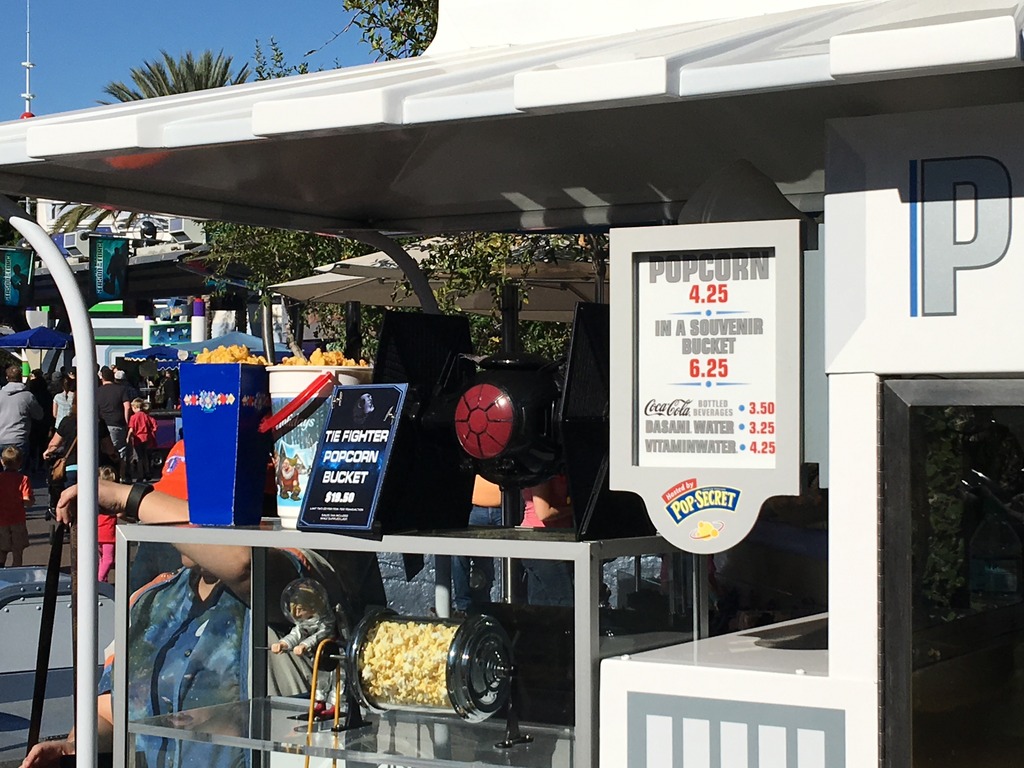 I also thought these Death Star balloons were really awesome!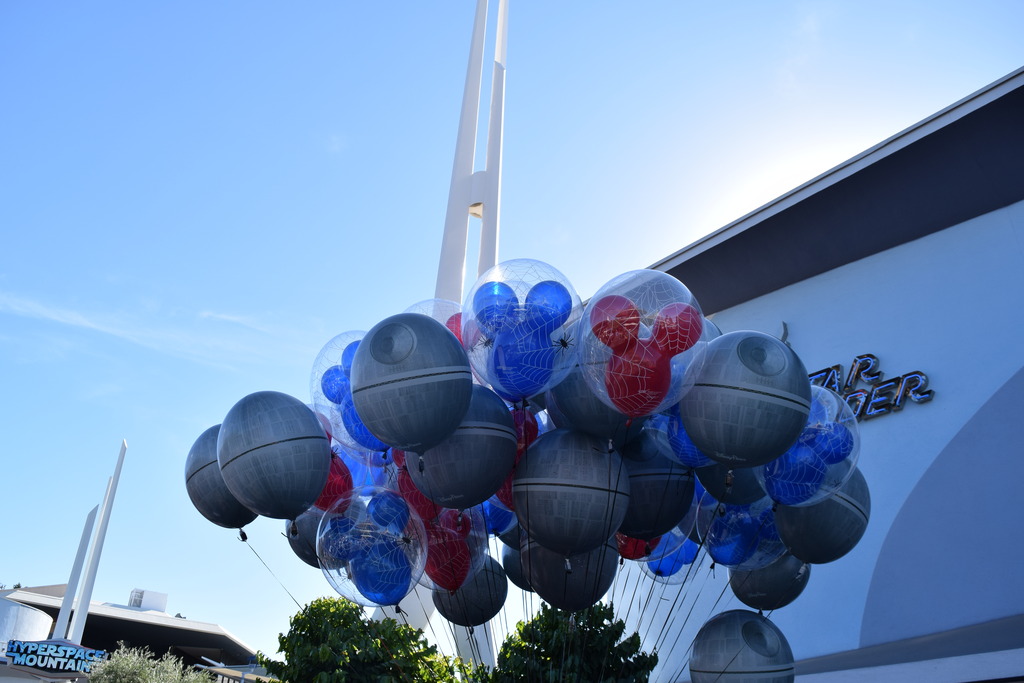 Star Wars: Path of The Jedi
I didn't get a chance to see this, but this is about a 10-minute film that highlights moments from the entire saga.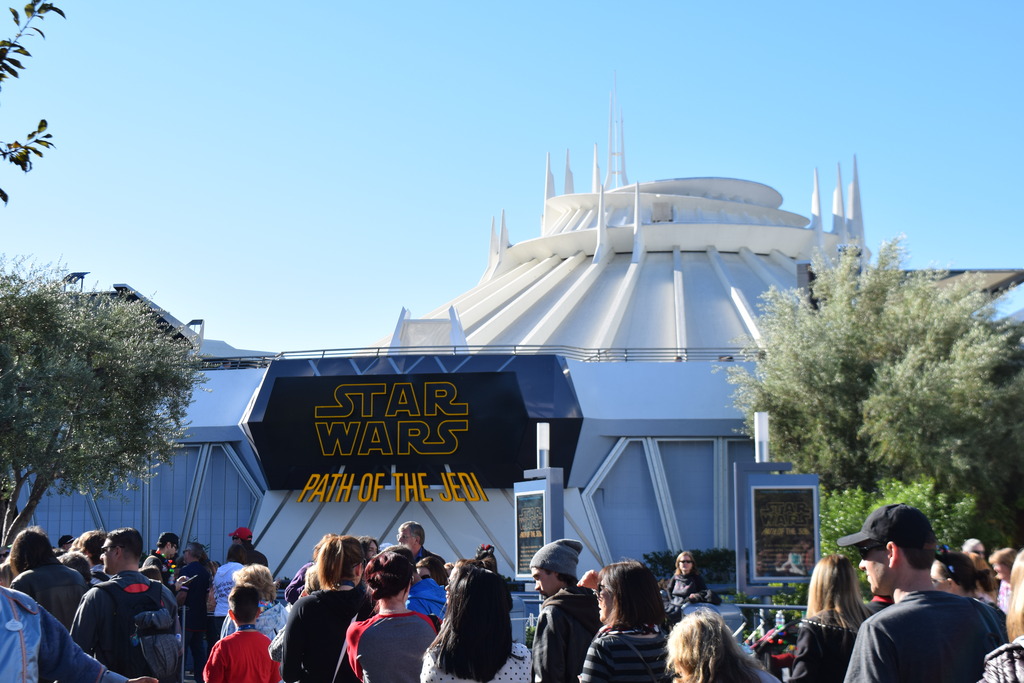 Streetmosphere
Besides some Stormtroopers, I didn't see any other street performers around the event.  I hope they add more in the future.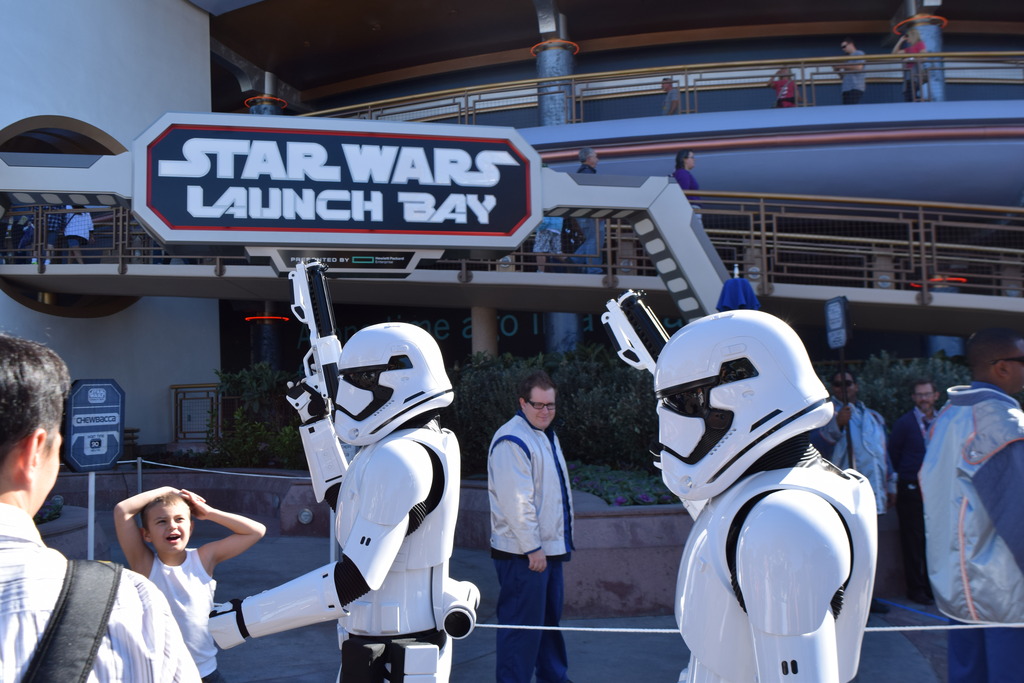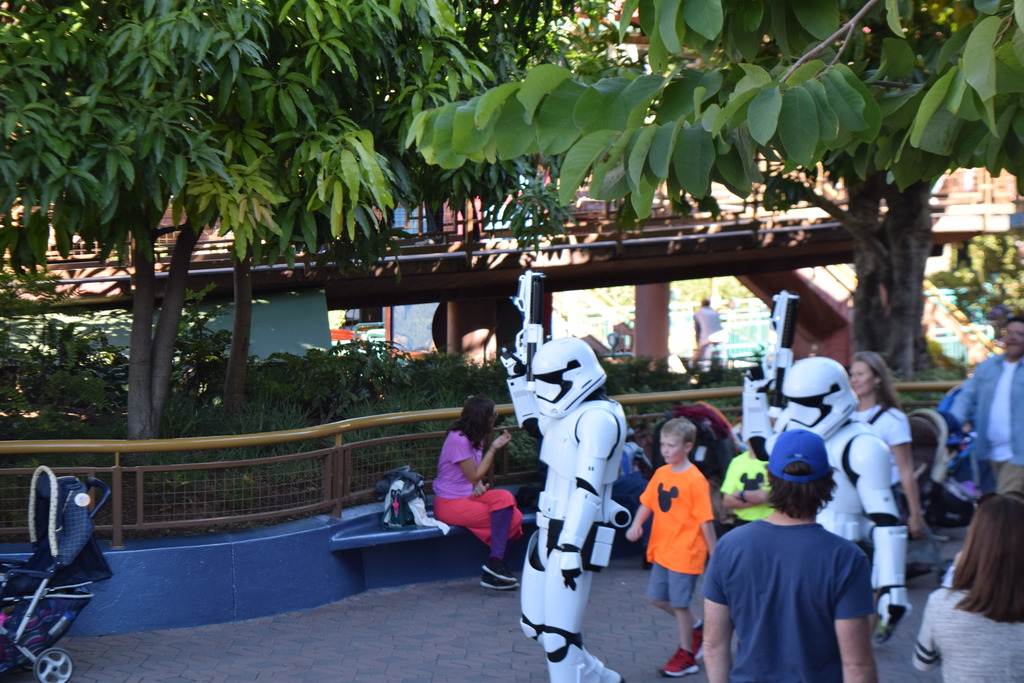 Season of the Force Night Time Decor
I wanted to share how incredible this area of the park looks at night.  During the evening hours, projections are used as well as a center piece unit in the middle of Tomorrowland.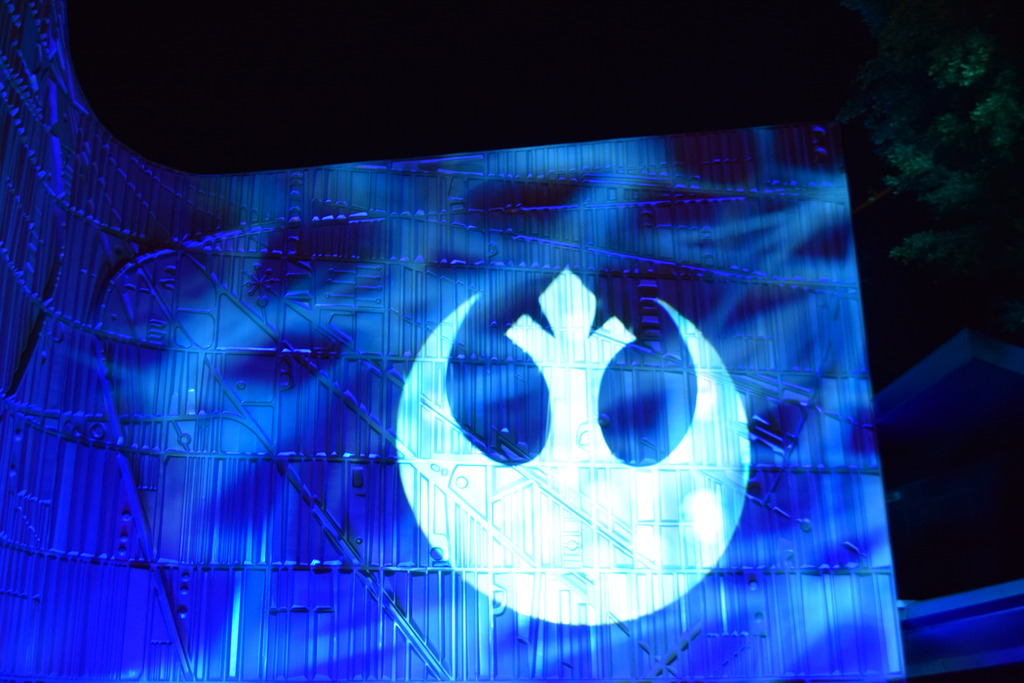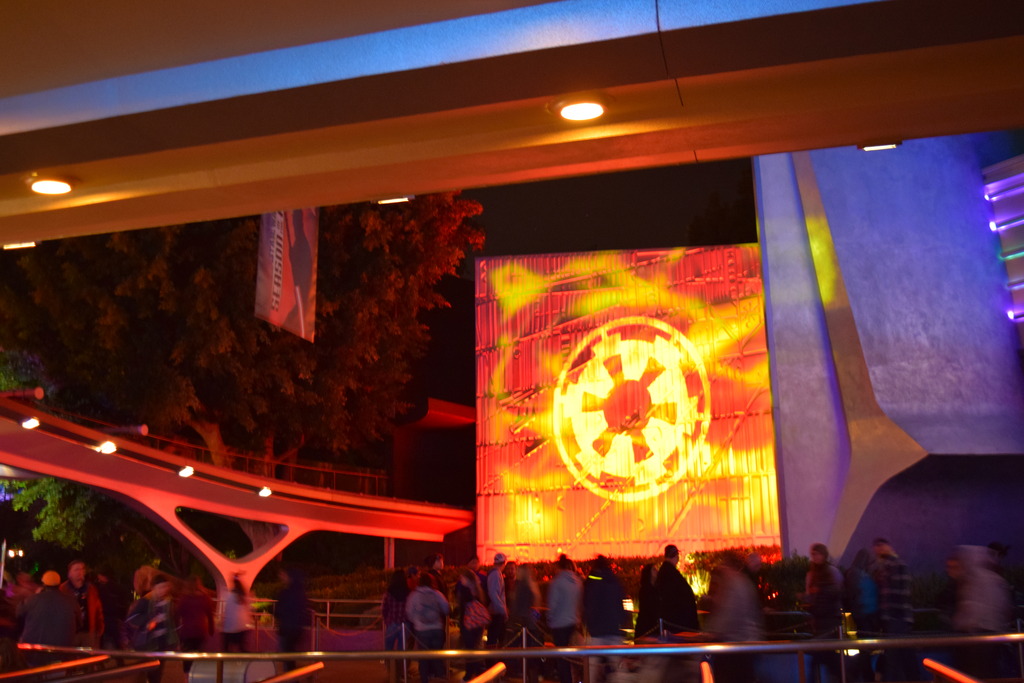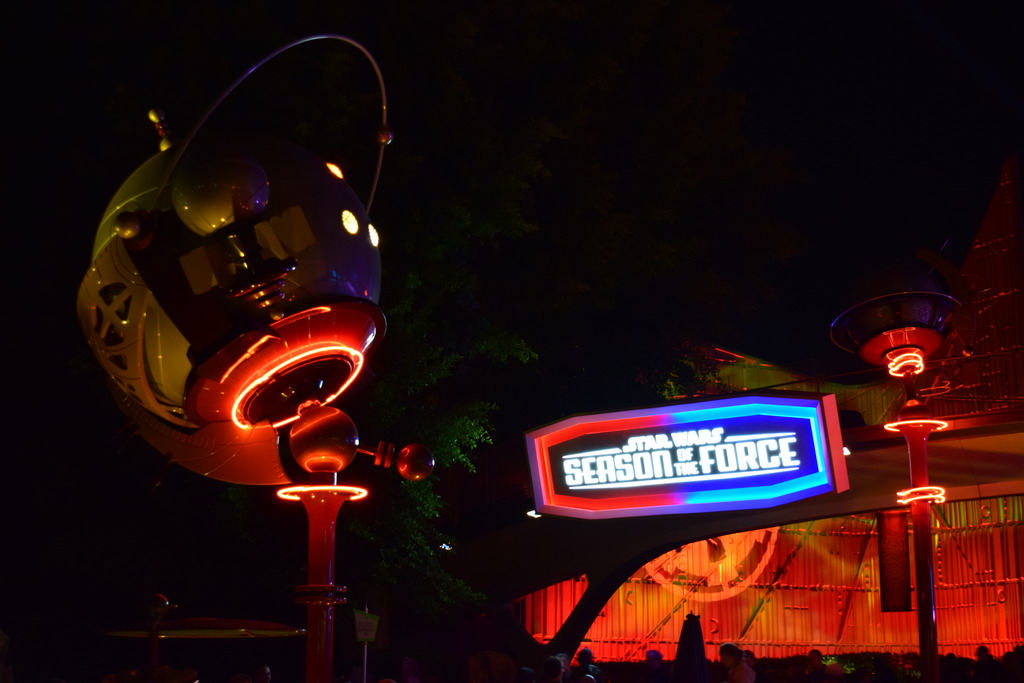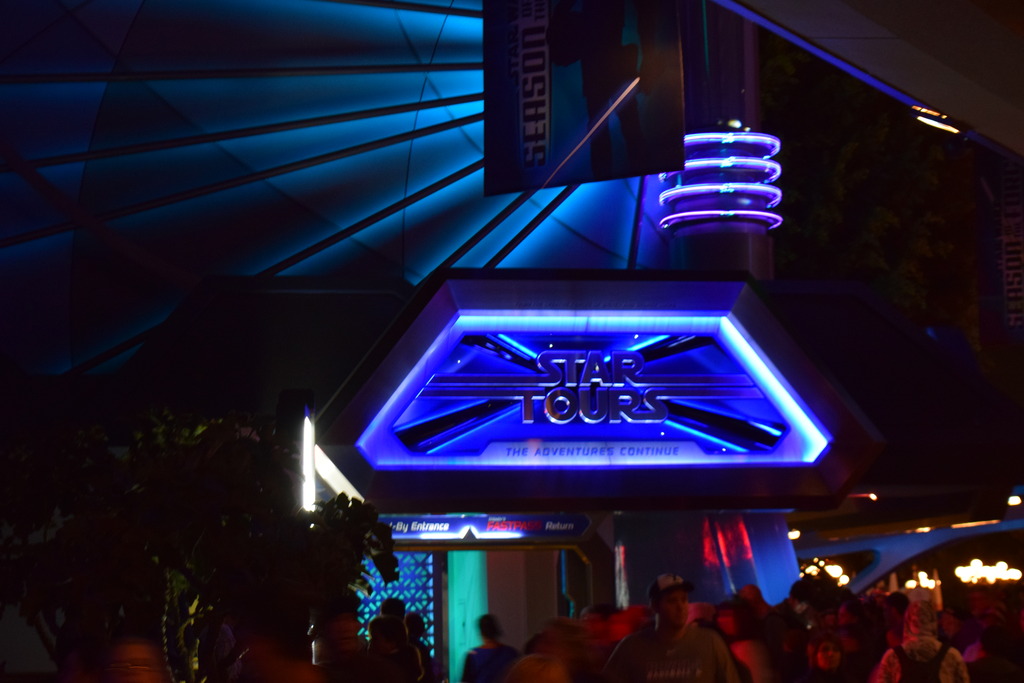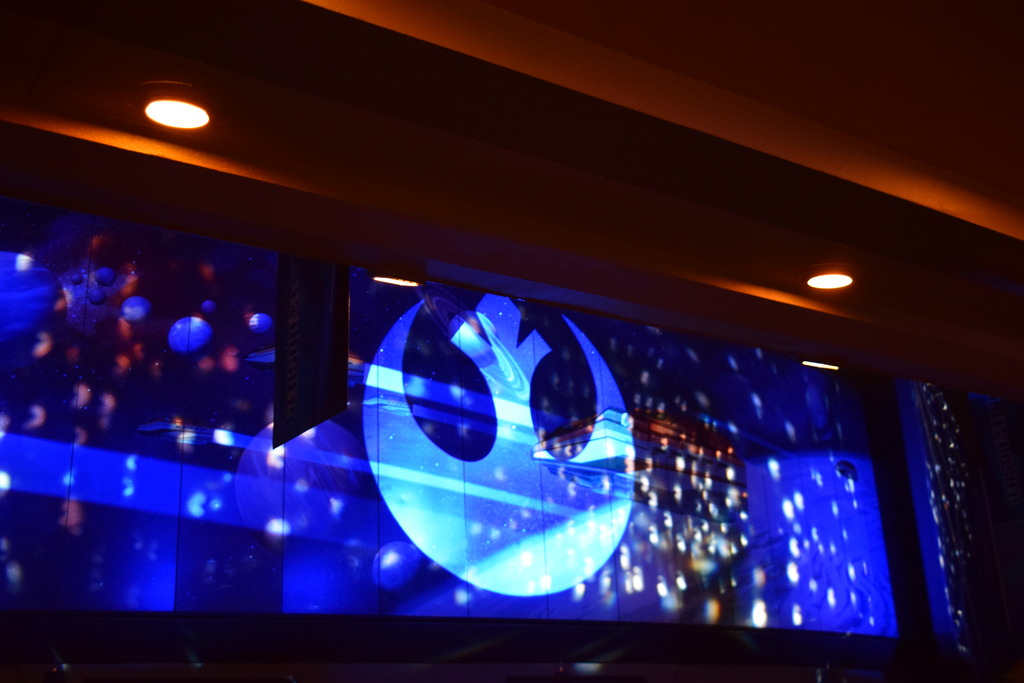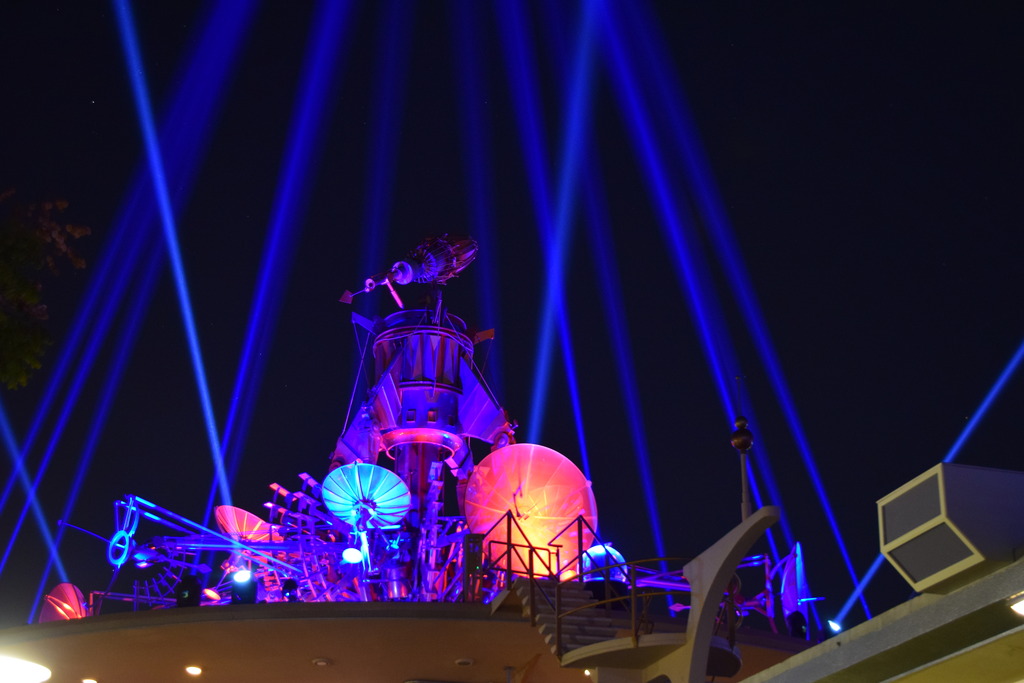 So that wraps it up.  Even though the event was super crowded this past week, I still was able to enjoy most of the new offerings.  If you are visiting Disneyland anytime soon, definitely put Hyperspace Mountain at the top of your list for must dos.  Other than that, take a leisurely pace around the Season of the Force event and see what you can.  Nothing else is mind blowing.
See video inside Launch Bay & part of the queue from Hyperspace Mountain:
See a complete list of my event photos below: