Three Possible Replacements for Dragon Challenge
|
Universal Orlando has confirmed that Dragon Challenge will be closing for good on September 4th, 2017. They announced that the world famous roller coaster will be replaced with a new family coaster, one that will be the most themed roller coaster they have ever done. Lets take a look at three likely replacements for the ride. (Note- Not all 3 of these will be replacing the ride, we are speculating as to which one of the rides below will replace Dragon Challenge)
Motorbike Roller Coaster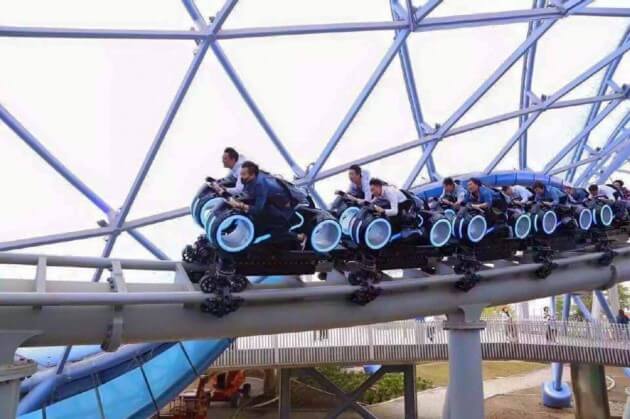 One of the leading rumors for this new Potter attraction is a motorbike coaster, with a side cart. Motorbike coasters make great family attractions, as they are not too intense. The one rumored for Universal would be themed to Hagrid's bike, with the main bike and the side car attached to it. Pictured above is a photo by Inside The Magic that shows the new Iron Lightcycle Power Run, which features a bike coaster system at Shanghai Disneyland.
Mack Inverted Power Family Coaster
This ride system by Mack rides is an inverted family coaster that is built for dark ride scenes and theming. This ride has a low height requirement and provides fun for the whole family. The seats on the trains can rotate, the train can start and stop moving under its own power, and the seats can have on board effects and audio. Above is the video of the Arthur ride at Europa Park that uses the ride system.
SFX Coaster
The SFX Coaster by Dynamic Attractions is totally insane. The ride vehicle can do flips, can go down drop tracks, can slide down track sideways, and can even be used in simulator scenes. Universal could possibly be building a not so intense ride with this system to fit the "family coaster" description they announced. It would be very unique and a first of its kind in the United States.