Halloween Horror Nights 25 - First Impressions
|
One of my favorite seasons in Central Florida is Halloween Haunt Season.  Every year, Universal Orlando puts on one of the best events in town, Halloween Horror Nights!  This year, they celebrate 25 years with one of the biggest events yet; nine houses, five Scarezones, and two Shows! So is the hype for Halloween Horror Nights 25 all that it was planned to be?
I was able to spend three full nights at the event over this past weekend and last week (preview night).  Like every year, it takes time for the team to warm up to their roles and tweak and revise the streets, the houses, and the effects to get things just right.  Over the course of three days, I saw the streets and houses mold into a great experience so far.
Here is a run-down of each experience at the event; the good, the bad, and the ugly.
HOUSES
Overall, we have a SOLID list of houses this year.  It was really hard for me to rate them, because on each walk-through I had such different experiences.  Besides one or two houses, the others are all top notch and some of the best in recent years.  The list below is in no particular order, but rather just brief thoughts on each.
Insidious (Rating: A)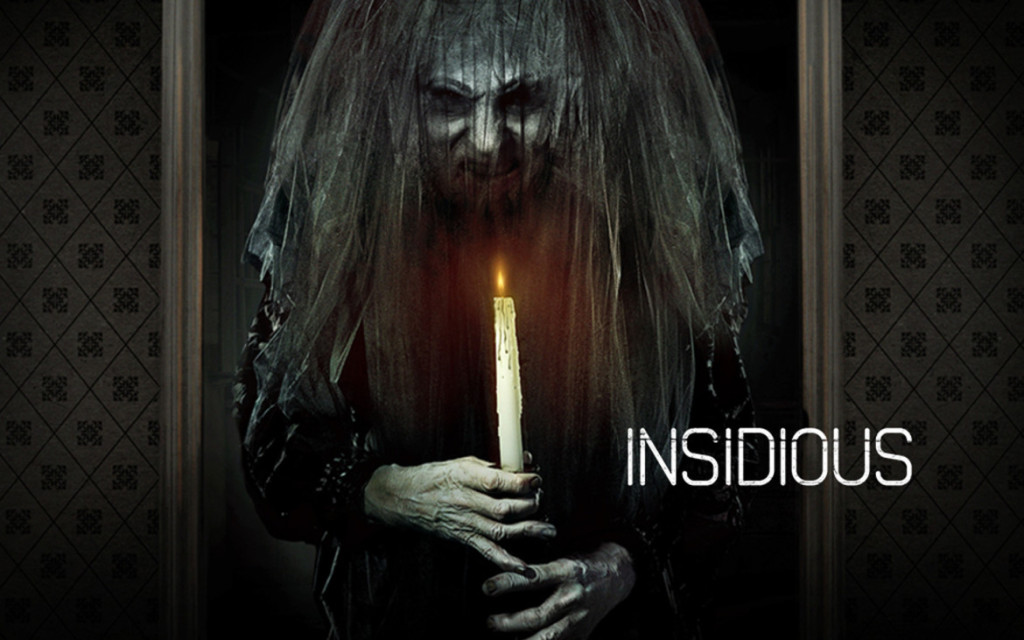 Insidious was consistently great on both walk-throughs I experienced.  This is the "creepy" house of the year, using ambiance and theming to transport you into the films.  This house had so many great scenes, and the scareactors really played the rooms.  My favorite scenes in this involved Red-Face while "Tiptoe through the Tulips" played in the background.  Any fan of the films will love this house.  However, it may leave some (who have not seen the Insidious films) rather confused.  Great house overall - and in my top three.  Make sure to check this one out!
The Purge (Rating: B)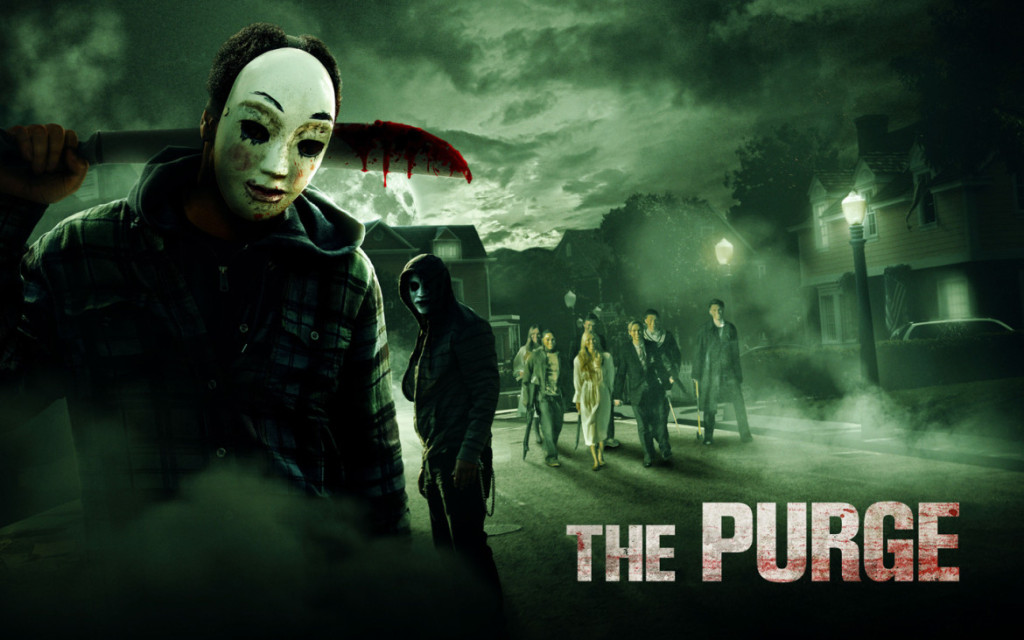 I must admit, I went into The Purge with low expectations.  Knowing that this was originally going to be a Scream house, I figured this house would be thrown together quickly and lack any substance.  I was quite wrong.  The best part of this house are the scareactors.  They are full of energy (both casts I saw) and use effective scare techniques throughout.  The house is loud and all kinds of things are going on at once. They use even use fake "guests" to do kills in certain scenes too.   The theming still looks rushed, but it's effective for the chaos of the films.  You can also see a lot of what could have been Scream walking through.  Listen for the knife blade sound effects and be on the lookout for a Drew Barrymore mannequin 🙂
Body Collectors-Recollections (Rating: A)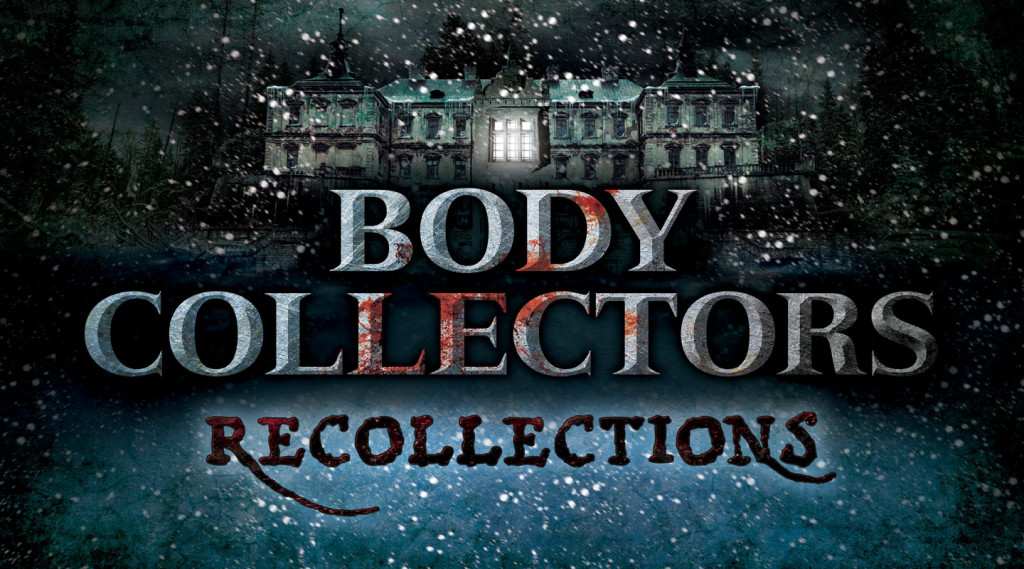 This was the house I was dying to see this year! Being a fan of the previous version of Body Collectors, I couldn't wait to see what they had in store blending this with ShadyBrooke! The sets and theming in this house are breathtaking.  Take your time walking through to admire the sets and the unique set of kills they do throughout.  This house was a perfect blend of two classic HHN houses and the scares are good in almost every scene. I especially liked one scene where you are walking through a corridor looking out windows to a snow storm outside.  The windows are cracked, and some of the ShadyBrooke patients are dying outside.  The entrance to the house is amazing as well! Place this house on your MUST DO list.
Freddy vs. Jason (Rating: A)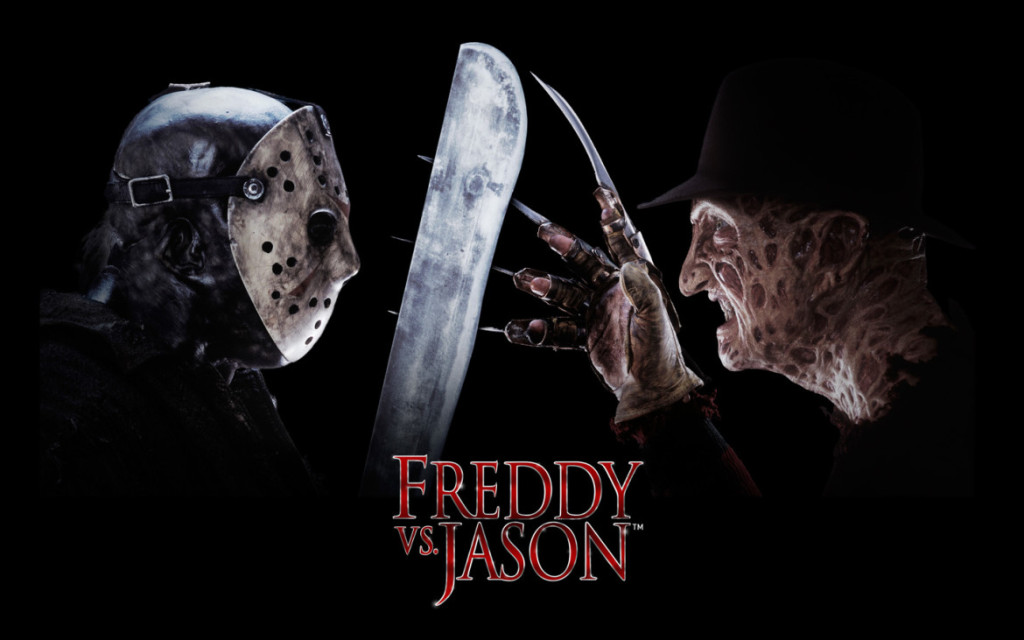 Being a fan of the ridiculous movie, this house fell right in line with it and made it even more over the top.  Walk through and witness the battle between the two legends as they duke it out in almost every scene.   Now even though I am going to criticize it, the house itself is really good.  The Jason characters (as in past years) have massive builds and are menacing to look it.  The Freddy characters, on the other hand, seem cheaply put together and awkward.  Freddy was not scary at all and looked out of place in certain scenes.  Universal also used screens for the first time in this house.  However, I didn't feel like they worked well.  The scenes played on these like a badly directed movie. The overall experience is GREAT though! Despite a few flaws, it is one of the most scary and well executed houses of the event.
An American Werewolf in London (Rating: B)
The only reason I gave this house a B is since it's a repeat house.  The HHN Team didn't really try to do anything different with it besides updating the wolf puppets and a few other tweaks.  Don't get me wrong - AWIL is still one of the best houses HHN has done to date.  But if you have seen the original, you're not missing anything here this time.  The Tardis is missing this time around too 🙂
Jack Presents: 25 Years of Monsters and Mayhem (Rating: A)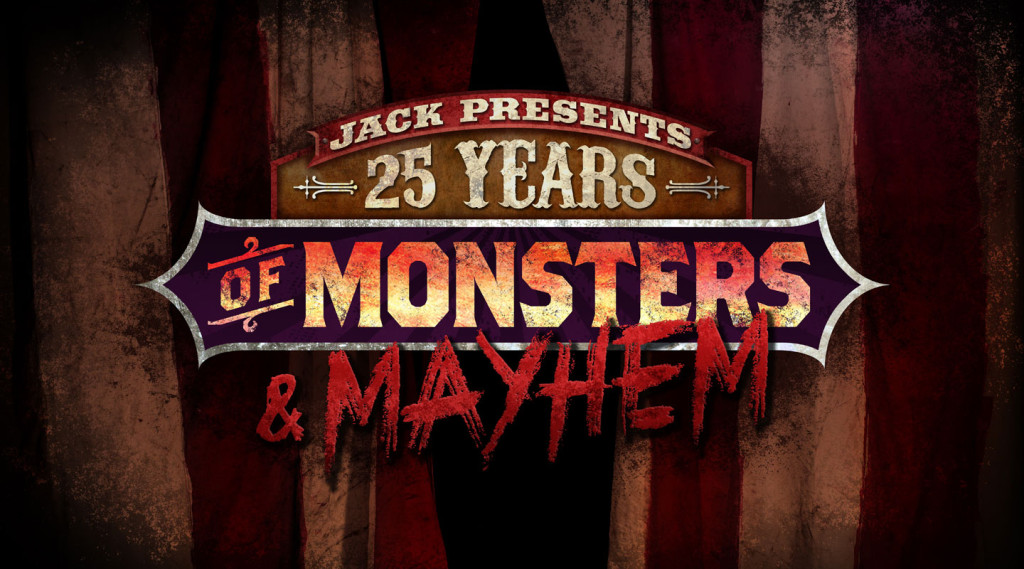 My initial walk through during Preview Night didn't impress me overall.  However, the house improved a lot over the last two nights - so much so, that it falls in my top three for the event.  FYI: This is not really 25 Years of Mayhem, but more like the last 10 years.  My ONLY downfall to the house is the lack of true history.  I wanted some real classics in this house, but only a few were there.  Also, during the first weekend, we didn't get Jack in the house.  Instead, we just had some crazy clowns jumping out.  However, in saying that, this house recreates some great moments from previous houses and works well overall.  Great scares, great sets, and a good experience.  I like it more every time I go in, so I raised the rating from a B to an A during the last two nights.  I can't wait for Jack to finally appear!
Run: Blood, Sweat, and Fears (Rating: C)
If you follow me on Twitter, I had originally stated this could be the "sleeper house of the year."  I have changed my mind on that.  I don't know if it's the pacing of the house or how it's laid out, but it just doesn't work.  This house had such potential - it was another blend of two classics (Run and Hellgate Prison).  The scareactors don't really work the rooms, timing seemed to be off, and it just didn't deliver scares.  I really hope it improves over time.  It just isn't getting any better, and I've experienced it three times now.  Some of the sets are cool though, and I liked some of the unique kills.  Besides that, this 80's version of Hunger Games is falling down my list.
Asylum in Wonderland 3D (Rating: B)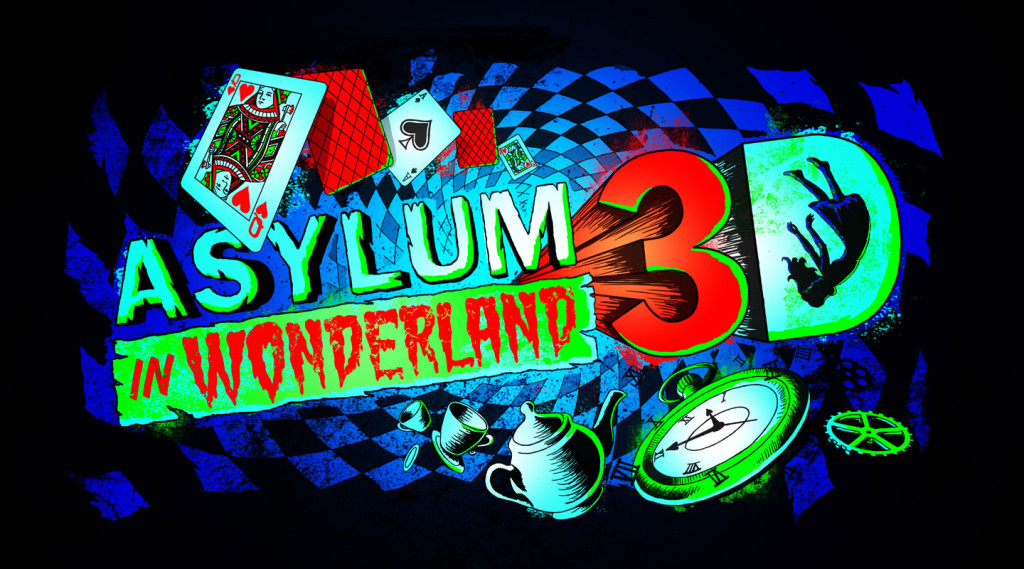 I originally didn't care for this house on my first run.  However, it's really starting to grow on me.  With HHN's rather lackluster list of 3D houses in the past (except for a few), this is probably one of their better ones.  I'm a fan of creativity with originals, and this one surely satisfied.  This house has some crazy characters and sets.  I felt like I had experienced some trippy nightmare.  The scares are not missing either - they know how to work a room and take advantage of the disorientation.  This house continued to impress me more each time I went through it.  I'm sure I'll have more thoughts later on this one.
The Walking Dead: The Living and The Dead (Rating: D)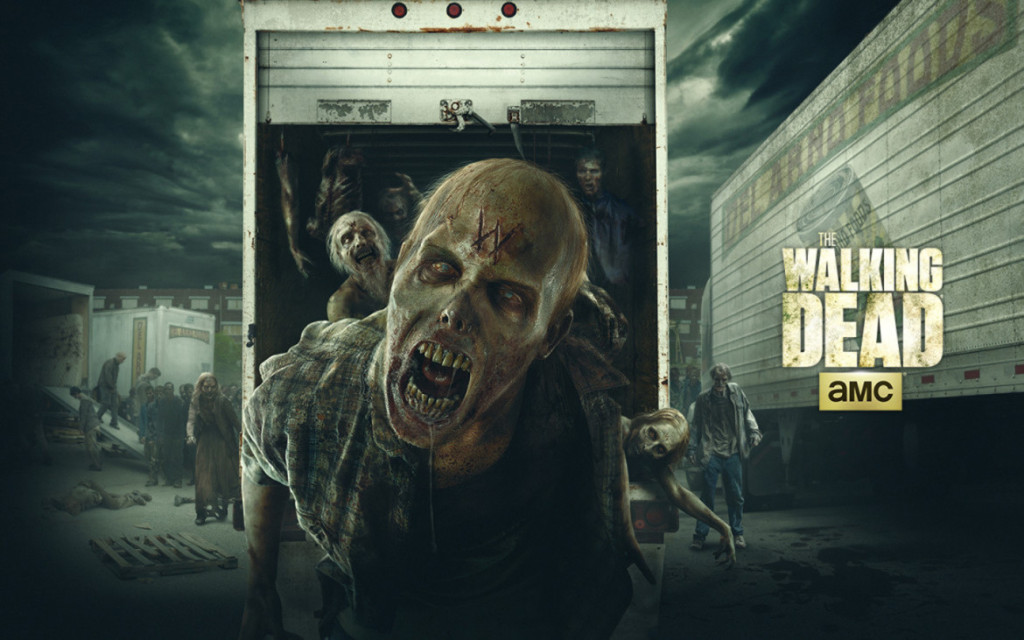 To start off, most of the HHN fans are tired of even hearing the words The Walking Dead.  But once again, we get yet ANOTHER house this year.  To make things worse, this is probably the worst version of the series they have done yet.
The entire house is disjointed and seems to be a thrown together collection of random house props set in and out of The Walking Dead universe.  I was able to see three different runs of the house with both casts.  The first was by far the worst, with minimal scareactors and even less scares.  The second and third time were a little better; they tweaked the lighting a bit and added more cast.  However, the experience overall seems to lack any cohesiveness and direction.  From coming after one of the best Walking Dead houses last year, this house is a complete letdown.
SCARE ZONES
We have a mix of good and bad this year with Scare Zones overall.  None of them are horrible, but some shine much brighter than others.
Psychoscareapy - Unleashed (Rating: A)
This will win Scare Zone of the year hands down.  It is a totally immersive experience for all of your senses and the scareactors roaming the street are exceptional! This is like a Halloween Carnival gone wrong.  From the burning gazebo to the carnival booths of horror, this is A+ entertainment.  The characters WILL interact with you and they seem to love it! Each of the "characters" seem to have some backstory too.  Try talking to them.  One was trying to find her mom and another was running from someone trying to kill her. This was a very effective use of the Psychoscareapy house poured onto the streets for the first time.  I spent a lot of time in this Scare Zone and look forward to spending even more.
Icons- HHN (Rating: A)
Another close tie for best Scare Zone is Icons.  This Scare Zone, like Psychoscareapy, is extremely interactive.  This is the "Face Off" Scare Zone of 2015.  It's a place to take pictures of your favorite Icons of the past, and they LOVE posing for you.  In addition, every 20 minutes or so, per set, they do a victim kill throughout each of the Icon stages.  Each Icon has a unique kill and they all are entertaining to watch.  I personally feel they could have amped up the kills a bit (and some are a bit cheesy), but just enjoy them for what they are! Grab your camera and start taking pics!
Scary Tales- Screampunk (Rating: C)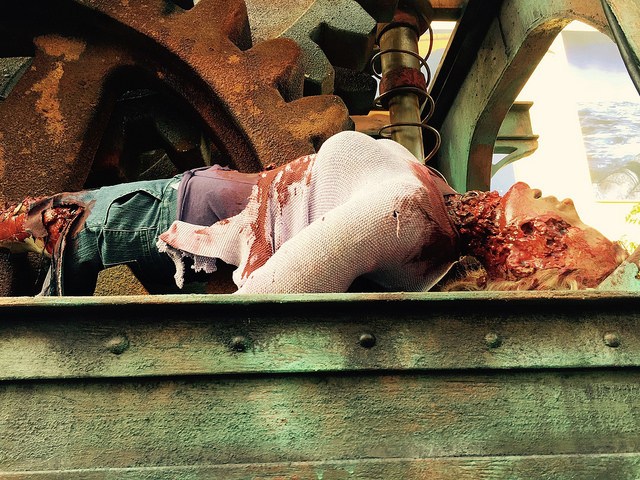 I'm not sure exactly what's wrong with this Scare Zone specifically, but it just doesn't work.  First off, you have a massive set piece in the middle of the street that blocks scareactors trying to work the street.  Secondly, the scareactors don't really try hard or interact with you.  I feel like they do just bare minimum, swooping back and forth along the street doing the same motions every time.  Maybe it will improve, but facing big competition this year, it falls flat in comparison to the others.
Evil's Roots (Rating: A)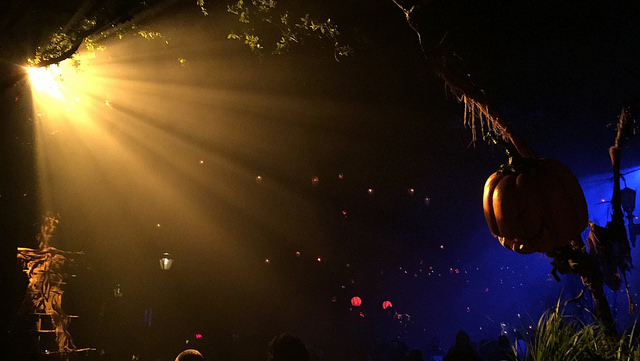 I spent a lot of time roaming this Scare Zone.  I loved the atmosphere and the lighting! The fog is a bit heavy at times (especially after dark), but the mood in this zone is great! I love the light up pumpkins and the eerie sound effects.  Think of it as a reincarnation of Grown Evil.  It's pretty much that.  A lot of classic HHN characters in here as well.  Try just walking through and taking it all in.  It's fun just to stand to the side and watch the scareactors in here.  They do some great scares.
All Nite Die-In - Double Feature (Rating: C)
I know many love this, but I just can't.  Don't get me wrong, the characters (a blend of B&W from the past and Color ones from the present) are great.  However, the zone is super small and the scares seemed minimal.  This Scare Zone may improve over time.  Maybe the scareactors need to find their groove?  While I appreciate the classic nature of this Scare Zone, compared to others, it just doesn't compete.  I will give it time and may revisit my initial thoughts later.
Shows
The Carnage Returns (Rating: A)

This show is one of the best shows HHN has done in years.  It has a classic HHN feel to it and Jack and his Maniacs light up the stage with spectacular stage presence.  With a mix of acrobatics, pyro, dancing, and over the top violence, this show has a mix of everything!  This is a loud and crazy show with tons to offer!  Horror Nights has become "soft" according to Jack, and he is back to bring blood back to Horror Nights.  But how long will it take them to start censoring this show?  Time will tell.  Can anyone say Voodoo Queen?
The only downfall to the show is a) it's location and b) it is standing only.  The location creates quite a crowd control issue, but Universal has done a good job in fencing the area off and directing traffic to and from the show.  Even with that, leaving the area after a show is a bit frustrating if you are headed in the direction of Evil's Roots.  Also, the length of the show may be hard for those that can't stand long periods of time.  Seating to get a good view can only be found around the Mel's area.  But even sitting outside Mel's, you will still have obstructed vision - standing room only ladies and gentlemen.
Bill & Ted's Excellent Halloween Adventure (Grade: B)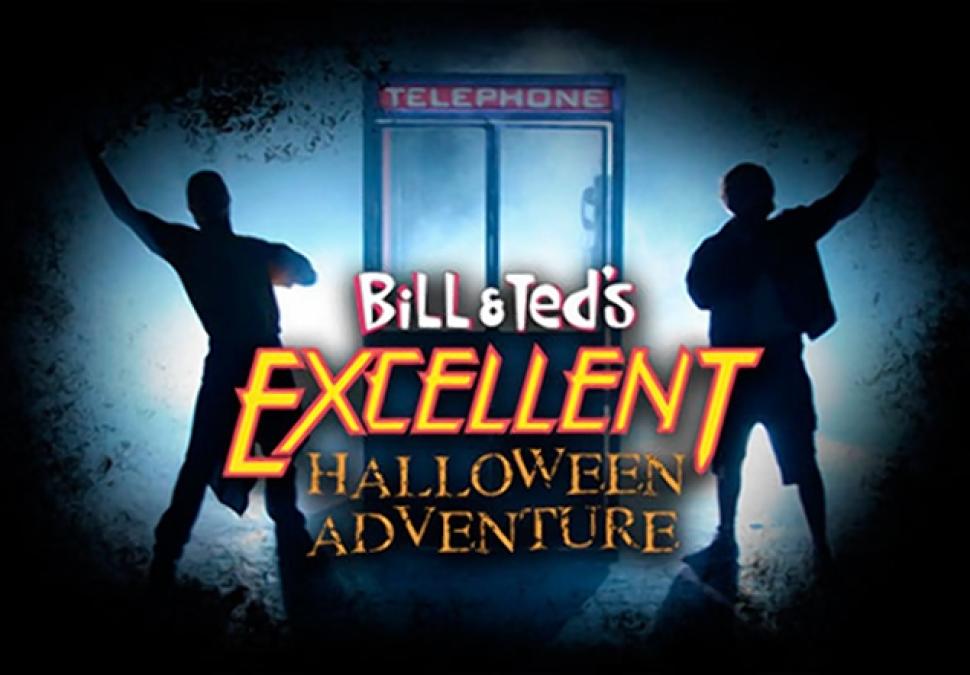 Not the best show in years, but definitely not the worst.  Using Kanye West as the villain seemed a bit weak to me.  Some of the references I didn't quite get either.  Throwbacks to BTTF were great though, along with the old Universal Map as part of the "Rules of the Show" pre-show.  Disney was poked fun at as usual - probably the funniest parts of the show.  References to Avatarland again as well as Star Wars.  Disney owns everything according to Bill & Ted, so what ISN'T there to make fun of?  Closing dance numbers are always great in Bill & Ted, but this year's was all over the place with current vs. classic songs - felt like a letdown to me.  I'll give this show another run next week since it is always changing.
Miscellaneous
Roaming Hoards (Chainsaws)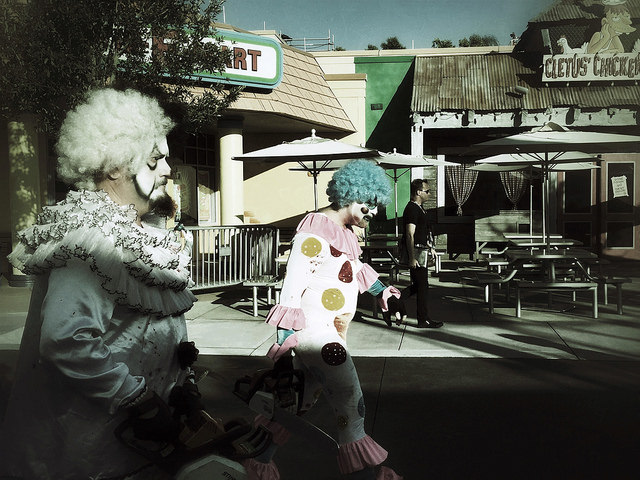 The roaming chainsaw groups had a bigger presence this year than the past.  I felt it was an overkill though and they didn't really fit in the event.  There is a mix of different chainsaw hoards - inmates, clowns, etc.  Some are really good at what they do, others are not.  They would just show up in random spots and seemed more like a interference rather than anything else.
The Rat Lady
Good luck to those that find her, but she is present! Always great to see this blast from the past! Bravo to the team for bringing her back!
The Halloween Horror Nights Store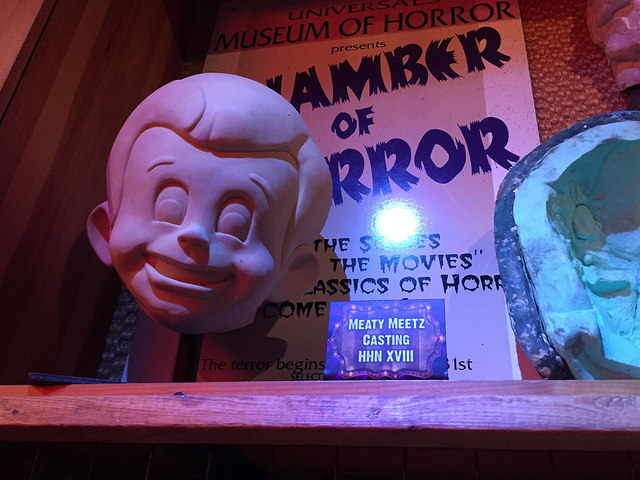 Lots of fun props from the past in the store, as well as a good collection of memorabilia and merchandise available for purchase.  This store is quite a nice addition, since the event has never really had an official store before.  It is a blend of a HHN museum and Gift Shop rolled up into one.  I enjoyed walking around in here and taking in all the history.
Final Thoughts
Overall, a great year for Halloween Horror Nights! One of the strongest years in awhile.  Houses are mostly all top notch (with a few duds here and there), yet some Scare Zones still need some tweaking.  Jack's Carnage show highlights the event and is an experience itself to behold.
I also want to make a note about Express tickets for event.  Get them - I urge you.  The lines are massive this year, and the Express option was money well spent.  #TeamExpress all the way!  If you plan on doing one night especially, it is definitely worth it!
The HHN Team has done a great job blending the past and the present together for the big 25th Anniversary.  It lived up to the hype for the most part, but still has room to grow and improve.  I can't wait to experience it all again next week!
Visit http://www.halloweenhorrornights.com/orlando/ for more information on the event and to purchase tickets.
Video of Preview Night: